Months and months on, tech floggers still waiting to feel Microsoft's tool
Resellers were RIGHT to be sceptical about rebate utility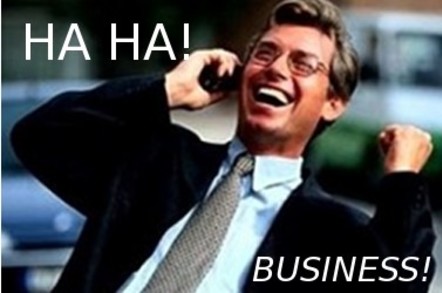 Firms paid by Microsoft to sell its products are still waiting a brand-spanking-new business intelligence and analytics tool that the Redmond giant promised to deliver by February.
The resellers had hoped the once crash-prone Microsoft's Partner Sales Exchange (PSE) would be improved by the addition of the new sales-tracking and real-time analytics tool. PSE, which was launched in 2011, allows resellers and service providers to log deals with customers online to rack up rebates from Redmond - as well as safeguard the sales from rivals - but it has been beset with problems since its inception.
The system periodically fell down whenever too many partners were using it, meaning they had to enter the deals manually. Basically, the benefits were outweighed by the negatives.
Besides improving the deal reg process, the One Plan project in existence since September, was also expected to make it easier to claim rebates, where Redmond pays a fee to the reseller that registers the deal, regardless of whether it is eventually transacted directly by Microsoft.
In a candid interview with The Channel back in January, Microsoft director of partner programmes and solutions Janet Gibbons said a solution would arrive the following month.
"Partners will see a significant change around all those issues; the systems are being changed," she told us.
This was all part of One Plan, which she said was aimed at making deal reg operationally smooth and "address[ing] all the pain points we hear from partners around channel incentives".
Microsoft was planning to integrate the analytics tool to make the system more transparent and allow resellers to track deals and rebate claims in real time.
A bunch of partners we contacted said the situation had not worsened but neither had it improved, and said they had only seen a series of small tweaks.
"We [now] get email reminders from Microsoft saying 'here is a list of pipeline deals registered on Partner Sales Exchange'. As far as I can seem that is the only change," said one.
Deal reg still sucks up administration resources, said another, who added, "We had to put more resources on it to try to make it work".
Another reseller said: "There are a numbers of steps to manage the pipeline of opportunities. Microsoft is asking you to manage your business on their terms, which isn't great."
We contacted Microsoft in February about the shiny new tool and were told there was no update, and "we should have something to share next month".
March, April and May came and went with no updates, until last week when Microsoft revealed, "there's still nothing we can share ... we're hoping this might change soon".
Sources tell us that Microsoft is scratching its head over what to do, as it has invested heavily in deal registration and cannot ditch it, but equally is struggling to come up with a timely solution. ®
Sponsored: Minds Mastering Machines - Call for papers now open