Nokia, Microsoft put on brave face as Lumia 925s parachute into Blighty
Pair get cracking on new ad blitz for latest smartphone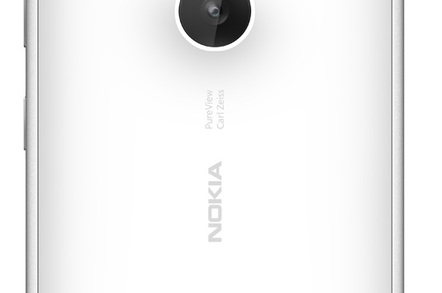 Nokia's latest premium smartphone, the Lumia 925, is now shipping in the UK.
And staff at the mobe-maker told reporters they will be working more closely with Microsoft, which is responsible for the handset's Windows Phone 8 OS, with most of the cooperation focusing on joint-marketing campaigns.
The new Lumia 925 puts the guts of last year's massive Lumia 920 - a 185g monster - into a much slimmer and lighter aluminium case. The result weighs almost exactly as much as a Samsung Galaxy S4, but it feels more expensive.
The phone's 8Mp camera hardware - which excels at low-light photography and wobble-free video recording, particularly at lively concerts - has been enhanced in the 925 for daytime use. It can snap 3264 x 2448-pixel images.
Arguably, the 4.5-inch display has been improved over the 920, too: it's now an OLED display. The device's dual-core 1.5GHz ARM-compatible Qualcomm Krait CPU, Adreno 225 GPU, 1GB of RAM and 768 x 1280-pixel display resolution are the same, but the 925 has shed the 920's built-in wireless charging (this now requires a clip-on back plate) and has 16GB of built-in storage, unless you opt to go with Vodafone's carrier exclusive of 32GB. There is no expansion card option.
Nokia considered getting the Lumia's weight down to the market leader's specification an imperative, and thus the Finns have come up with their most stylish and grown-up Windows Phone 8 handset to date - by a long chalk.
The phone-maker's last assault on the premium market late last year with the Lumia 820 and 920 models jumped the tracks at one point, and the company blamed component shortages for going off half-cock. Initially, mobile operator EE exclusively flogged the 920 in the the UK, which did not help because its much-hyped 4G coverage was patchy and offered some pretty barmy tariffs. So the 920 was more talked about than talked into. [I see what you did there - ed]
Our hands-on with the 925 is here.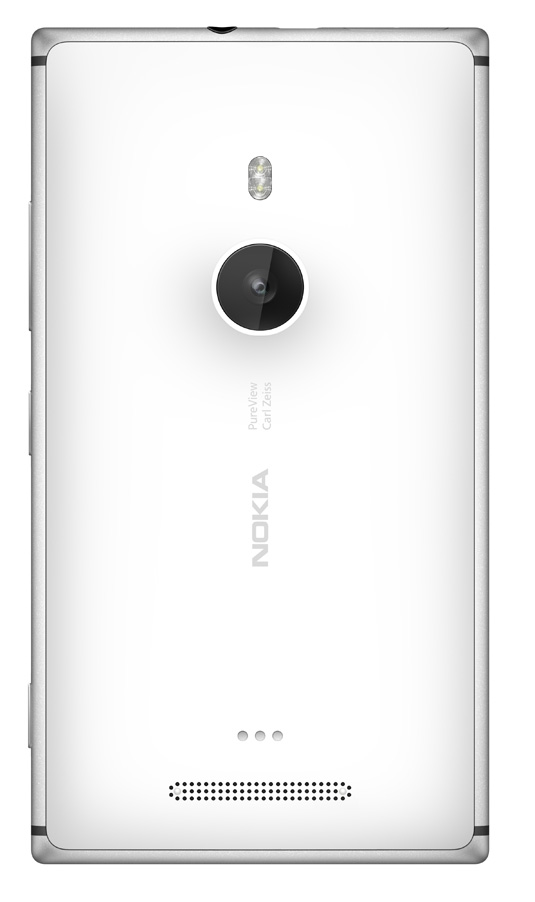 The back of the Lumia 925
Brits who ordered their 925s from Vodafone are already receiving their phones this week, which are "free" upfront with contracts from £34 per-month for unlimited minutes and 2GB data per month, or £99 upfront on a £29-per-month unlimited minutes, 1GB data contract. There are more details here.
Rival network O2 exclusively carries the white model, "free" on £37-per-month for unlimited minutes and 1GB data, but orders by 4pm today will see £25 knocked off a wireless charging plate and case bundle. Three offers the best deals: the black model is available on a £30-per-month 500 free minutes and unlimited data package, up to a £34-per-month 2000 free minutes and unlimited data contract with no upfront cost. As of now, it's throwing in a charging stand and cover for free. EE, Orange and T-Mobile have yet to announce their intentions. And if you want just the phone, Expansys can sort you out for £499.99.
Puzzlingly, Nokia will continue to sell the much heavier sibling, the 920 - but why would anyone want one? Perhaps because it doubles up as a formidable defensive weapon, or a car jack.
As for the closer cooperation between Microsoft and Nokia, it's long overdue. Of the four major Windows Phone licensees (Nokia, Samsung, HTC and Huawei) only Nokia has bet the ranch on the Redmond OS, and is putting its very best work into the Win8 phones.
We'll bring you the results of a longer real-world workout as soon as we've given the thing a good going over - and we can try to answer any questions posted below. ®