Silicon Valley digiterati to brainstorm at 30,000 ft
Nothing spurs creative thinking like 11 hours in a flying tube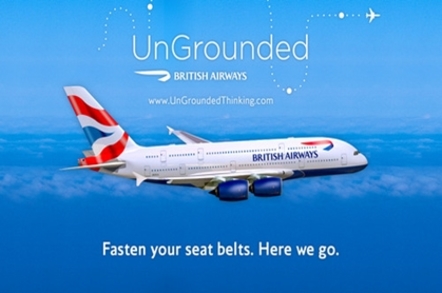 British Airways is flying 130 Silicon Valley business leaders, venture capitalists, and start-up specialists from San Francisco to London in an "Innovation Lab in the Sky" – an 11-hour flight that's going to try and sort out ways to expand STEM (science, technology, engineering and mathematics) skills around the world.
The group, which includes Craigslist founder Craig Newmark, VP of Google X Megan Smith, and chief International Telecommunications Union (ITU) liaison with the UN Gary Fowlie, will look at how to get more women and underdeveloped countries involved in STEM subjects, find ways to add STEM training to non-scientific skills, and examine how the US can solve its apparent STEM shortfalls.
Once they land, the jetlagged guests will be rushed to present the findings of their brainstorming to the DNA Summit being held in London, and the best ideas will be presented by team members to the secretary general of the ITU. Next week, the same ideas will be fed into the G8 summit in Northern Ireland.
"It's going to be fun but hard work. If you are looking for a flight with wine and movies this is not the trip for you – we have a deadline," Simon Talling-Smith, VP of BA Americas, told the guests. "You can't just land and say 'we couldn't come up with anything.'"
No doubt the attendees will come up with some ideas, but it does seem rather odd to try and solve a major issue by cramming people onto a 747 (albeit all in business class seats) and having them brainstorm over a transatlantic flight – particularly since they won't have internet access to check facts.
Nevertheless they are going to try, and key to the issue is going to be getting more women into the field, attendees said during the launch press conference in San Francisco. There is still a global imbalance of women online, with a shortfall of around 200 million. In developing nations it is women who are taking the lead in science and technology, but they need support, said the ITU's Gary Fowlie.
"In the least developed parts of the world women will spend around 10 per cent of their monthly income on information and communications technology," he said. "Cynics say it's because they like to chatter to their sisters but it's not that – they know it's a tool for power."
Google's Megan Smith agreed, pointing out that all of the first computer programmers were woman and included great role models like Rear Admiral Grace Hopper. There is a crushing lack of well-known role models for women in IT, yet there are some great examples out there of women in technology that need publicizing.
Smith also pointed out that many so-called developing countries are producing excellent STEM training. She told of a visit to a school in Vietnam where children were taught programming from the second grade and said most of the 16 and 17 year-olds who had been through the system were qualified to work for Google.
What's lacking in these countries is the investment support to start up new companies, which is why there were so many venture capitalists on the flight to London. Networks need to be built up to allow capital to find and fund native talent, Smith said.
We'll see what the teams on the flight come up with, but in this hack's opinion the whole thing smacks a little too much of a PR exercise for BA. California's slick lieutenant governor Gavin Newsom (who was due to be on the flight but pulled out, as his wife is due to give birth) rather gave the game away on that score.
"Virgin, eat your heart out," he proclaimed. "I'm a big Branson fan but BA has really raised the bar; it's quite a show."
It might be far more productive to have flown these people out a week before and given them more time to come up with good, tested ideas. Still, who doesn't like a free trip to London? ®