SoftBank sweetens Sprint bid by over $1bn
Sprint bigwigs reckon Dish deal's probably inferior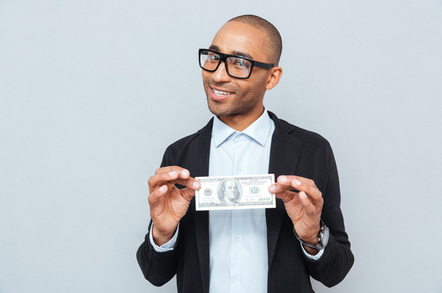 Japanese carrier SoftBank has sweetened its deal for US phone firm Sprint by over a billion dollars just two days before shareholders were due to vote on the offer, making the board very happy – but delaying the final merger decision.
SoftBank is now willing to part with $21.6bn for 78 per cent of the network, which is the third largest carrier in the US, instead of $20.1bn for 70 per cent.
The bid is still lower than rival Dish Network's offer of $25.5bn. However, SoftBank is also giving shareholders an increased cash payout of $4.5bn.
Sprint said that its special committee and its board of directors were now "unanimously determined" that Dish's attempted takeover wasn't likely to lead to a "superior offer".
"We have expended substantial time and energy engaging with Dish over the past nine weeks, including an extensive due diligence process, but these efforts did not lead, in the Special Committee's view, to a proposal that was reasonably likely to lead to a proposal superior to SoftBank's," special committee chairman Larry Glasscock said in a canned statement.
The board decided to give shareholders an additional two weeks to look over the amended agreement, postponing the vote until June 25.
Dish said in its own tinned statement that it was still negotiating the terms of a merger with Sprint.
"We continue to believe that Sprint has tremendous value. We will analyse the revised SoftBank bid as we consider our strategic options," the company said.
The US carrier has played on concerns about the foreign takeover of an American company, even taking out ads in Washington newspapers claiming that a SoftBank deal would threaten national security, to try to derail its rival.
But government officials from the Committee on Foreign Investment in the US, the FBI, the Department of Justice and the Department of Homeland Security have all cleared the merger of security concerns.
SoftBank and Sprint still have to get approval from the Federal Communications Commission on the merger, but if they get that and the stockholder vote, the firms will combine to form one of the world's largest mobile operators. ®