Headbangers have a gas, gas, gas in mosh pits
Boffins say heavy metal crowds behave like The Vapours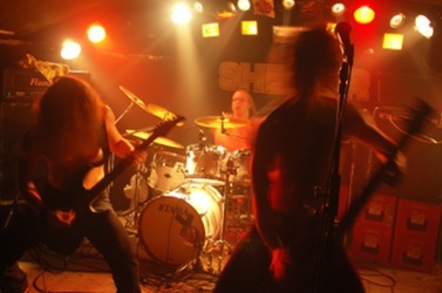 "Dancers" in mosh pits at heavy metal gigs form patterns that resemble the behaviour of gas particles, according to a study in Physical Review Letters titled "Collective Motion of Humans in Mosh and Circle Pits at Heavy Metal Concerts" (PDF).
Penned by four boffins from Cornell University's Department of Physics and Laboratory of Atomic and Solid State Physics, the study considered over 100 mosh pit videos from YouTube, before subjecting six that offered the most useful camera angles to detailed scrutiny.
The paper describes those videos as follows:
"Here, we study large crowds (102 –105attendees) of people under the extreme conditions typically found at heavy metal concerts. Often resulting in injuries the collective mood is influenced by the combination of loud (130 dB), fast (blast beats exceeding 300 beats per min) music, synchronized with bright flashing lights, and frequent intoxication."
The researchers' initial hypothesis was that "Mosh pits can form spontaneously or at the suggestion of the performing band, but in both cases, no micromanagement of individual actions is generally involved."
"Qualitatively, this phenomenon resembles the kinetics of gaseous particles, even though moshers are self-propelled agents that experience dissipative collisions and exist at a much higher density than most gaseous systems."
Analysis of the video and a simulation tool suggested that moshers fall into two main patterns. Conventional "mosh pits" exhibit the disordered state one would expect for a gas. "Circle pits" resemble vortices and are self-organised phenomena unknowingly created by patrons, perhaps as a result of flocking instincts.
Whatever's going through metalheads' minds to make them behave thus, the authors think we can learn from their exertions.
"Further studies in this unique environment may enhance our understanding of collective motion in riots, protests, and panicked crowds," the four write, "as it sheds light on what collective behaviors become possible when traditional social rules are abandoned." ®
Sponsored: How to get more from MicroStrategy by optimising your data stack