MYSTERY Nokia image-mangling mobe spotted in public
Unique Finnish downsampling tech sees daylight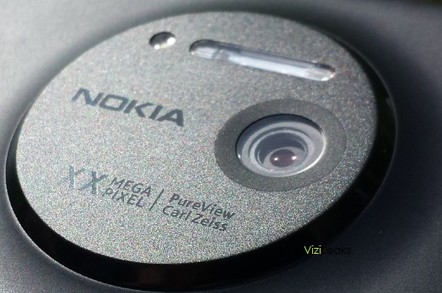 More images of Nokia's so-called EOS Windows smartphone have popped out on the web, and this time they show what looks like a final industrial design with a PureView-like camera.
Last year Nokia released a device with an unfeasibly large (for a phone) sensor that downsamples images, and is capable of knocking out outstanding photos. It's a technology unique to Nokia, and Nokia's been busy developing a Windows Phone version of the device - probably its best chance of turning good reviews into strong sales.
GSMArena, an anonymous Twitter account ('Vizileaks') and My Nokia Blog have all published images of a slimline device consistent with the design of the Lumia 920 and 925 phones, but with with an uncompromising camera bulge.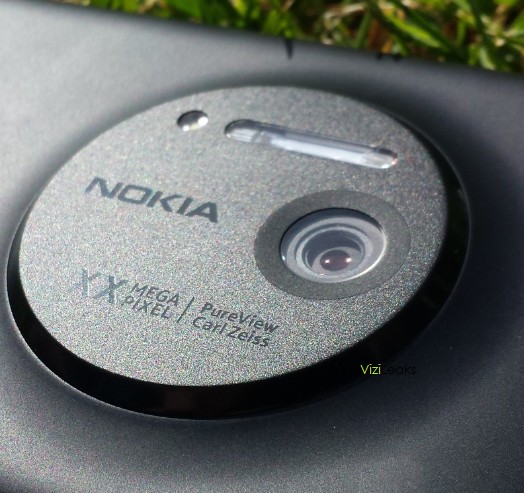 The leaked pic
The photos suggest that Qi-standard wireless charging will be available via a clip-on back plate, rather than built into the device itself.
The technology requires a custom graphics processor to handle the hefty throughput: 38 megapixels must be recorded, then downsampled and finally displayed – all without a lag to the user. The only instance of the technology on the market is Nokia's 808 PureView, running the Nokia Belle OS (aka Symbian).
This device took five years to develop, back when Nokia had far more control over its hardware then than it does now. Windows Phone licensees use a hardware reference design from Microsoft based on a Qualcomm board. That certainly speeds up development of generic devices, but makes a custom device such as this more difficult.
Nokia has one more summer media event planned, which may see the 'Real PureView' device released - although a Q4 release for the Windows version looks a safer bet likely, running Windows Phone 8.1. Rumours suggest two iterations of the phone will appear, the first with a "smaller" (but still industry-leading) 21MP sensor. This looks big enough to be the full Buster, however.
You can read your reporter's account of a few months spent with a PureView 808 here and a professional photographer's impressions of the 808 camera, here. ®