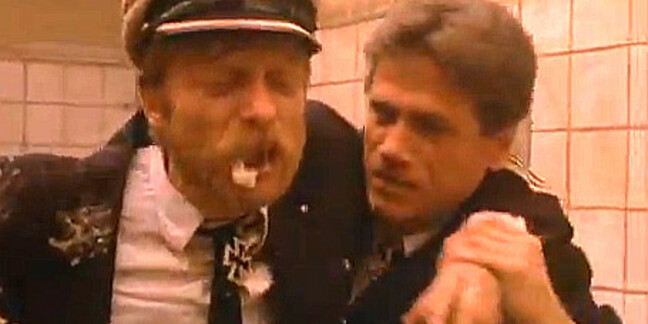 A change in EU law has allowed the Germans to bin their longest word: the 63-letter monster Rindfleischetikettierungsüberwachungsaufgabenübertragungsgesetz.
According to the Telegraph, the monstrosity was spawned back in 1999 in Mecklenburg-Western Pomerania, and translates as "law delegating beef label monitoring", in bite-sized English pieces.
Originally a product of the war on mad cow disease, the term has been retired as the EU is "calling a halt to the testing of healthy cattle at abattoirs".
Apparently, even Germans found the word a tad excessive - despite their penchant for extended compound nouns - and abbreviated it to the hardly more plausible RkReUAUG. Interestingly, this is the exactly the sound which can regularly be heard coming from Vulture Central's toilets of a Friday afternoon as the adsales and news room boys and girls eject an especially robust liquid lunch.
Quite which word now has the honour of being Germany's longest is uncertain, although Donaudampfschifffahrtsgesellschaftskapitaenswitwe is in with a shout.
This handy term means "widow of a Danube Steamboat Company captain", and no doubt pops up regularly in everyday conversation. According to the Telegraph's Teutonic correspondent, a popular parlour game in Germany involves creating ever-longer words associated with the Danube Steamboat Company, such as the magnificent Donaudampfschifffahrtselektrizitätenhauptbetriebswerkbauunterbeamtengesellschaft, which translates as the "Association for Subordinate Officials of the Head Office Management of the Danube Steamboat Electrical Services".
A more likely contender for the longest word in German is Kraftfahrzeughaftpflichtversicherung ("automobile liability insurance"), which actually appears in the dictionary.
English speakers have long struggled to match German prowess in the length department. A quick net search reveals that pseudopseudohypoparathyroidism is commonly cited as our most impressive non-coined effort meriting a dictionary heads-up.
When I was a lad, it was antidisestablishmentarianism which took the popular vote, although I've always had a soft spot for the splendid supercalifragilisticexpialidocious. ®
Sponsored: Practical tips for Office 365 tenant-to-tenant migration