Intel unzips new Atom phone chip: Low power, fast - is that right, ARM?
Merrifield brain talks the talk ...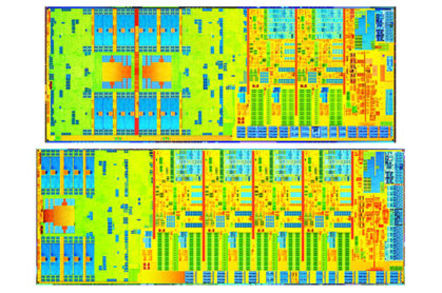 Computex 2013 Intel has been doing its best to convince anyone who'll listen this week that its new Silvermont-based processors are a viable alternative to ARM's mobile-friendly cores.
And thus it's showing off a Merrifield-powered handset, derived from the Silvermont design, for the first time and cranking up the hype around the Bay Trail family of Android tablet computers.
Announced in detail earlier month, Silvermont is Chipzilla's supposed ARM-killer – a 22nm Atom micro-architecture that El Reg thinks may finally see the x86 giant crack the low-power electronics market.
Promising three times the performance at one-fifth the power of current Atoms, the blueprints will spawn Bay Trail chips and Merrifield processors for smartphones. The latter are not expected to escape the fabs until early 2014.
Executive vice-president Tom Kilroy flashed a reference design for the latter during his big Haswell launch keynote on Tuesday, claiming the real thing will be ready for Mobile World Congress 2014 in Barcelona.
Merrifield offers a 50 per cent performance improvement over Clover Trail+ and unquantified "improved" battery life, he claimed.
However, a lack of 4G/LTE support has restricted Chipzilla's smartphone chipset plans in the US market thus far – a gap which will be plugged later this year, Kilroy admitted.
Bay Trail, meanwhile, will find its way into devices shipping by the end of the year, said the general manager of Intel's mobile and communications group, Hermann Eul.
He claimed a two-times performance improvement over the previous generation, eight hours of battery life and "weeks" on standby, and a noticeable improvement for "user interfaces, gaming and visuals".
Expanding on Silvermont in his keynote, Eul revealed Gen 7 graphics, support for DX11 and full HD, with a three-times GPU performance improvement over the previous generation of processors.
"Silvermont is so powerful we can spin it from the datacentre to tablets and smartphones and it's so versatile it can run Windows, Linux and Android," he added.
Despite the fighting talk and new architecture, however, it'll be tough for Chipzilla to break ARM's cast iron grip on a mobile market which it has been slow to target.
"As we compete in the phone space ARM is the incumbent so clearly it's a competitor to say the least, but we're going in fast," said Kilroy. "We've just announced our 22nm [Silvermont Atoms] and our intention is to move towards the leading edge for Atom."
For its part, British success story ARM turned up the heat on its transatlantic rival at the beginning of the week, claiming in a press conference that its 28nm Cortex-A15 and Cortex-A7 chip designs are "outstripping" Silvermont performance-wise.
It also announced a new chip, the Cortex-A12, which will sit between the A15 and the A7 and target the mid market, which ARM expects to grow to 500 million handsets shipping by 2015. ®
Sponsored: From CDO to CEO