Michael feels package shrink painfully as Dell freezes salary
Hold off on the big trousers lads, my wallet fits into these fine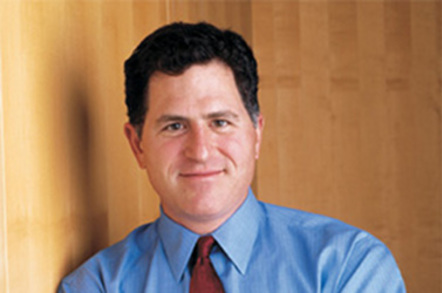 Michael Dell may have to hold off on those gold taps for the bathtub in the corporate jet, or set his sights on a slightly less horizon-girdling Texan ranch after seeing his total compensation tumble at the company which bears his name.
The founder and CEO at Dell, the firm he plans to take private again, saw his package shrink by 14 per cent to $13.89m (£9.08m) in fiscal 2013 ended February, according to an SEC filing.
For those that can't be too bothered to do the maths, that is $2.24m lower than the amount which rumbled into his bank account the previous year.
Dell's base salary was $950,000, unchanged from fiscal '12 and it will remain at the same level for fiscal '14, assuming Carl Icahn doesn't seize control of Dell and remove the Michael.
Mr D's stock options came in at $11.59m, up from the $9.4m made in the previous year, but the incentive plan compensation fell to $1.33m from $3.3m.
"The Committee approved a $1.33m bonus payment to Mr Dell under the annual incentive plan which is 30 per cent below his targeted level," the filing states.
In fiscal '12 ended February, Dell sales went backwards to the tune of eight per cent to $56.94bn and net profit slumped 32 per cent to $2.37bn.
Dell has already warned of pain ahead in the PC game, which is why Michael has spent more than $13bn acquiring non-PC firms to bolster margins and boost the share price.
Transforming the company into an enterprise tech vendor is probably better done behind closed doors, hence the $13.75 per share offer from Michael and pals - valuing the biz at $24.4bn.
According to Dell, a special meeting of shareholders has been called for 18 July at coporate HQ in Austin to vote on the proposed buyout, which is opposed by activist investor Carl Icahn. ®