Elon Musk pledges transcontinental car juicers by end of year
Mars, warp drives a little further off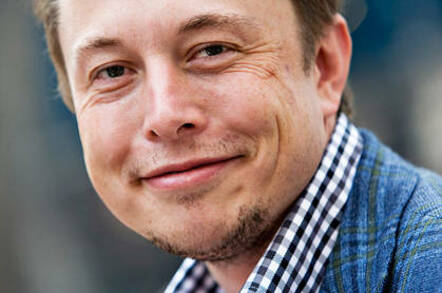 Elon Musk says Tesla is tripling the number of electric recharging stations available this year, with enough installed to enable coast-to-coast road trips by the end of the year.
Speaking at the D11 conference, Musk said his company has perfected a new "supercharging" technology that will enable faster fill-up times for its electric fleet, and is setting up new solar-powered charging stations across the US. These will extend the company's range to include the bulk of US buyers.
So far Tesla has completed stages one and two of its growth plan, he said: providing a low volume, high-end car (the Roadster), and a mid-cost, medium-performance car with its current Model S. The next step is an affordable, mass-market road car, which will come in 3-4 years, he said.
Musk isn't giving up on petrol entirely. He still owns an E-Type Jaguar, one of the loveliest cars in creation, but is betting that electric is the way to go in the future. The electric powertrains he is developing are already being used by Daimler and Toyota, he said.
Tesla's service network will be backed up by a service plan modeled on the Lexus, where if you break down, a top-of-the-range car is handed over as a replacement. Settling up the dealer network to make this possible is achievable, he said.
The row with The New York Times over the performance of the Model S had played to people's worst fears about electric cars, he said, but the company is fighting back with more repowering stations than ever. Once people saw the benefits of not paying for ever-increasing fuel costs, the price equation will be obviously in favor of Tesla, he said.
Musk accused the oil and gas companies of a deliberate misinformation campaign about the effects of fossil fuels on the planet, and said carbon should be punitively taxed just as alcohol and cigarettes are today. Once this happens, the economic advantages of electric cars would win, he said.
"We are going up against 150 years of mechanical history and trillions of dollars of investment in taking on the traditional car industry," he said. "That takes time, but we can harvest the economies of scale and build a low cost, mass-market car."
Musk doesn't just have ideas for the road – he wants to revolutionize public transport as well. California is currently planning the slowest and highest-cost high-speed rail link in existence, and his Hyperloop transit plan should make existing rail systems obsolete.
"It's a cross between a Concorde, a rail gun, and an air-hockey table," he said. "If that mated with a freeway and had a baby, somehow."
As for his ambitions in space, Musk said he was satisfied with progress so far, but there is still more to do. He had expected SpaceX to fail, he said, but instead it has become the best delivery system for the ISS. The next step is to work on recyclable rockets that would cause the cost of cargo delivery into orbit to crash.
The Space Shuttle was a useful step but could hardly be described as a fully reusable system, Musk argued. The main tank was always lost on launch and it took nine months to get the vehicle ready for a return to orbit. In the next two years he wants a fully-reusable first rocket stage (which accounts for around two thirds of the cost of a launch), and to go fully reusable in the future.
"You don't buy a new aircraft with each flight," he said. "How much does a plane cost compared to simply refueling a plane? Big difference."
This will open the way to Mars, and it's a trip humanity needs to make, Musk said. The Red Planet is our only chance at creating a self-sustaining civilization that isn't doomed to extinction on a single planet, and it's imperative we get there, he said.
Looking even further ahead, he claimed that a warp drive that would allow space travel close to the speed of light was possible, just not in our lifetime. Based on his current progress, El Reg wouldn't bet against it.