Planetary Resources turns to crowdfunding to help with satellite costs
Astro-miners come up with novel concept for space selfies
Updated Planetary Resources, the asteroid mining company backed by some of the biggest names in Silicon Valley, is launching a crowdfunded satellite that could be in orbit by 2015.
The Arkyd 100 satellite, named in homage to the Star Wars droid manufacturers Arakyd Industries, is a small orbital platform that will form part of the company's planned network of orbital telescopes tasked with finding the most suitable candidates for robotic mining. At a press conference on Wednesday, Planetary Resources said that it is looking to raise $1m to help with the costs of an Arkyd telescope ahead of its launch.
It's a small spacecraft, weighing just 15kg and with a deployed length of 42.5cm and a wingspan of 60cm, but houses a powerful telescope, along with a boom-mounted camera and a display screen on the outside of the satellite. It will be transported up to the International Space Station and then released by the crew before moving into its own orbit using internal thrusters.
Once in position, the telescope will be capable of taking 15 astronomical observations per day for mineral-rich material in range of Earth, but its hardware will also be used to educate the public and give those that help fund it something unique for their investment.
For example, those that pledge $25 to the project will be asked to send in a picture of themselves. This will then be displayed on the satellite's screen and photographed with the boom-mounted camera with the Earth in the background, for what company cofounder Eric Anderson told The Register would be the ultimate "selfie shot."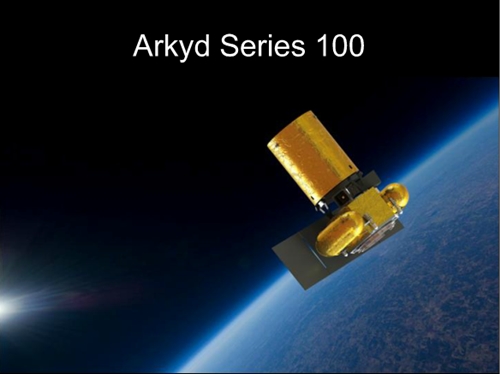 Coming soon to an orbit near you
He explained that there will be a variety of pledge levels, each with different rewards. Investors can nominate schools to get time using the telescope to image planets and asteroids and the top pledgers of $10,000 – several of which have already been bought – will get access to the launch party and a host of other goodies.
"The cost of the satellite is more [than a million dollars] but we want to see if there's sufficient public interest and demonstrate that so we can spend some time on this as an educational effort," he said. If it proves popular, more open-access satellites could join the initial Arkyd spacecraft.
The Arkyd 100 telescopes are designed to operate for 3-5 years in low-Earth orbit before being brought back down to burn up on reentry into the atmosphere, thus avoiding adding yet more debris to the cloud of space junk cluttering up the volume of space immediately around the Earth.
Anderson said that Planetary Resources' first non-crowdfunded satellites are on schedule to be lofted by April next year. The company wants to get a network of telescopes in orbit to begin scouting out likely candidates to receive phase two of the business plan – Arkyd 200 probes that venture out and look for asteroids that are suitable for landing.
Once a suitable target has been found, Arkyd 300 probes will be fired off to land and start the mining process, before returning the finished ores or collected water into Earth's orbit. The first mining operations are scheduled to bear fruit by 2023.
As business plans go it's a leap of faith, but one that's both well-funded by investors like Google's Larry Page and Eric Schmidt, former Microsoft chief architect Charles Simonyi, and the filmmaker James Cameron. Planetary Resources is not alone in seeing the possibilities of deep-space mining, but it looks (to this El Reg hack) as though it has the best chance of success. ®
Update
The Kickstarter campaign site has now gone live, even if the press conference stream is beset with gremlins. The old tech adage holds true: to err is human, to really screw things up you need computers.
Pledge amounts range from $10 to get access to the Arkyd community network and register your support, to $10,000 dollars to become a "Grand Benefactor and Education Ambassador," which grants you naming rights on an asteroid and the ability to bestow research time to schools and universities.
In between, you can spend $99 on membership of The Planetary Society and help fund research into asteroids dangerous to Earth, $200 allows you to pick a spot for Arkyd to photograph, and $1,000 buys a visit to the satellite manufacturing facility. The upper tiers of pledges cover buying time on the telescope for educators, with a sliding scale for imaging time.
So far the site is raising around $1,000 a minute since launch. Mark this one as developing.
Sponsored: What next after Netezza?