NASA signs off on sampling mission to Earth-threatening asteroid
2016 launch date set for OSIRIS-REx mission
NASA has given final approval for a billion-dollar mission to visit one of the most potentially dangerous asteroids to Earth, collect samples and bring them back home for analysis.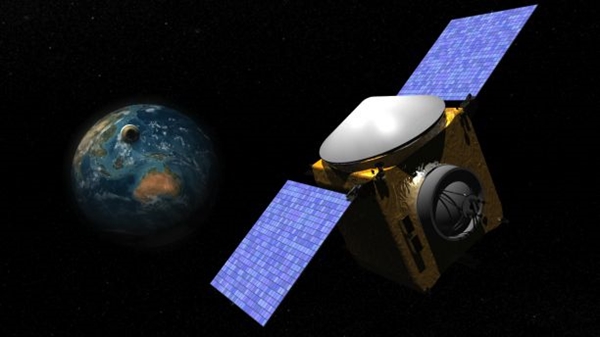 Asteroid sampler to set off in 2016
The OSIRIS-REx* mission, proposed by the University of Arizona, will blast off in 2016 and visit 101955 Bennu – a 493m wide hunk of rock and gravel that orbits the sun every year and a half. After a two-year flight, the craft will orbit the asteroid, mapping it in visible, infrared, and X-ray spectrums, and then land a sample collector.
The machine will scoop up at least 60 grams (2.1 ounces) of material, and possibly as much as 2 kilograms (4.4 pounds), before spending another two years heading back to Earth. The sample is scheduled to land in the Utah desert by 2023.
"We have now made the final deal with NASA in terms of the mission objective, the cost cap and the schedule all the way from development and launch through Earth return," said Dante Lauretta, UA planetary science professor and the mission's principal investigator, in a statement.
"We have presented our plan, including all aspects of the mission, from the engineering to the science to the schedule, and NASA has accepted that plan and committed to fully fund the mission."
The space agency has agreed to provide the $800m that Lockheed-Martin will need to build the spacecraft, as well as $240m for the rocket to get it out of Earth's orbit and on its way. NASA's Goddard Space Flight Center will run the mission-control systems for the flight.
The Bennu asteroid was picked in part because it comes close to Earth's orbit every six years. But this is a problem in itself – current orbital calculations suggest there are a potential eight impact points between it and our home planet between 2169 and 2199, with 2182 the most likely date. The chance of a strike is only 0.071 per cent, but one of the mission's objectives is to firm up these calculations and get a better idea of the impact risk.
One factor the calculations can't fully cover, however, is the Yarkovsky effect – the influence of solar radiation in perturbing an asteroid's orbit. The effect can be so powerful that some scientists have recommended using paint guns to change the color of asteroids so that the Yarkovsky effect pushes them out of harm's way.
But it's the samples that will be most valuable if the mission goes according to plan. Asteroid mining organizations such as Planetary Resources and Deep Space Industries need information on the type of materials found on such asteroids, how to collect and process ores, and if they are available in economic quantities. ®
* Bootnote
If you want to get NASA's attention, a snappy name is a must. In this case, OSIRIS-REx stands for Origins-Spectral Interpretation-Resource Identification-Security-Regolith Explorer.
Sponsored: Detecting cyber attacks as a small to medium business