Yahoo! to 'share something special' in New York on Monday
Is hastily called event related to Tumblr rumblings?
Yahoo! will hold a "product-related news event" this upcoming Monday with CEO Marissa Mayer in attendance to "share something special."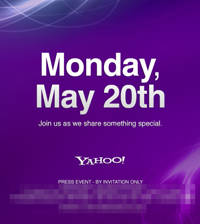 Did you get your invitation yet?
That's the word first tweeted by CNBC on Friday afternoon. Yahoo! later confirmed that it was holding a 5pm press event in New York City – "by invitation only," of course.
We can only speculate what the event will reveal, but we here at The Reg wouldn't be at all surprised if it had something to do with the recent Tumblr rumblings that are hypothesizing that Mayer & Co. are prepared to shell out a billion clams for the customizable social-networking site that lets its users "Post text, photos, quotes, links, music, and videos from your browser, phone, desktop, email or wherever you happen to be."
We sincerely doubt that the event will have anything to do with a Mexican appeals court, a failed buyout of French startup Dailymotion, original TV shows, another Dropbox announcement, more Mayer musings on the "fourth wave" of the internet, or the axing of more products – although something Summly-related is an outside possiblity.
But a hastily called presser in the Big Apple, attended by the CEO herself? That sounds more like a billion-dollar event. ®
Sponsored: Your Guide to Becoming Truly Data-Driven with Unrivalled Data Analytics Performance