Verizon starts selling VMware's split personality phones
Bring your own device provided it's one of these two Androids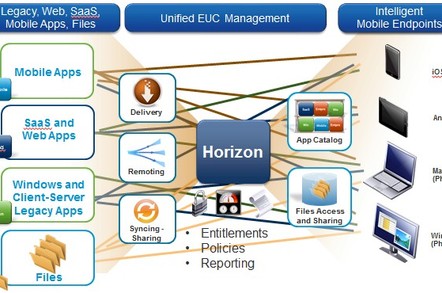 VMware has notched up a significant achievement in its quest to reduce its dependence on server virtualisation - by striking a partnership with Verizon Enterprise that gives its BYOD-ware Horizon Suite a better chance of finding its way into users' hands.
VMware is mad for what it calls end-user computing, largely because growth opportunities in its core business of server virtualisation are harder to find ever day thanks to increased competition and increased adoption of virtualisation. No matter how many private clouds condense, there's only so many more chances to sell its core products so the company has repeatedly looked for new growth areas. End-user computing, either through virtual desktops, groupware (Zimbra) or BYOD therefore seem like jolly good ideas.
Earlier this year the company released its Horizon Suite to address those markets.
It's now announced that Verizon Enterprise, Verizon's services arm, will sell a pair of handsets carrying Horizon Mobile, the Android app that creates a managed virtual machine IT departments running other bits of the Horizon Suite can use to provide access to corporate assets and apps.
Verizon will offer the LG Intuition and Motorola's RAZR M. The former is marketed as a phablet thanks to its 4:3 aspect ratio, but that claim rings a little hollow give its five-inch screen is now smaller than some thoroughbred handsets'. The RAZR M is an undistinguished Android handset.
VMware's promising "Additional device support … throughout the year" and probably needs it, because when users bring their own devices they may well be thinking about rather more prominent handsets – and a rather fruitier operating system – than the two now on offer from Verizon.
The news is, at the least, a nice bit of momentum for VMware, as connecting with a top-tier carrier (albeit in the US alone) and a pair of brand-name mobe-makers makes it far easier for current of potential customers to see how they can set their sights on VMware's Horizon.
It's also an announcement BlackBerry surely finds interesting, as the Balance feature in its new Q10 and Z10 handsets is aimed straight at the BYOD market.
VMware entering the market may not be a bad thing for BlackBerry, as having two players in a market is often seen as a comforting sign of maturity. Whether Blackberry's and VMWare's respective sales teams experience the same emotion will come down to how deeply-rooted their incumbencies are with current customers. BlackBerry should know the folks in charge of comms and messaging. VMware should, in theory, have a good grip on those in charge of infrastructure. Which of those teams will drive a BYOD purchase? ®