Steve JOBS finally DEFEATS the PC - from BEYOND THE GRAVE
Slablets hurtle off UK shelves as PC mountains moulder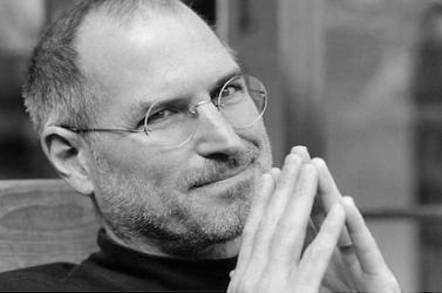 So it's official - the lifelong battle of legendary Apple CEO Steve Jobs is finally won, now that he has toppled the PC platform from beyond the grave: well, in the UK, at least.
During Q1 this year more slablets were shipped into consumer and business channels than PCs - that's notebooks AND desktops COMBINED.
Beancounting scriveners at IDC confirmed the shock figures to the The Channel, with 2.8 million tabs reaching the warehouses of retailers and distributors, up a scorching 188 per cent on last year.
In the same three-month period, 2.3 million PCs were sent into channels, possibly to moulder in unsold piles, representing a decline of 15 per cent. This included a 20 per cent fall in portables and a six per cent decline in desktops.
"The reason notebooks are declining at a faster rate than desktops is that they are more exposed to substitution from the tablet," Catherine Lowry, EMEA PC analyst told The Channel. She added that when someone buys a tab as a secondary device, "it extends the life of the notebook, resulting in a less frequent replacement cycle".
There was no hiding place for PC vendors - both the consumer and business PC segments declined, down 19 and 11 per cent respectively. Lowry said premium pricing for touch-enabled PCs deterred all but the best-paid early adopters, and ultrabooks were still above mainstream pricing.
"As a result, consumers continued to opt for competitively priced tablets, particularly the new 7-inch devices.
"Commercial shipments were also constrained, affected by decelerating renewals in the corporate segment and economic pressures which continue to weigh on overall IT investments," she said.
Despite HP shipping 25.2 per cent fewer PC boxes into the channel during Q1 compared to a year ago, it held into the top PC spot - accounting for just over a fifth of all unit sales.
Dell saw sales slide 10.8 per cent leaving it with a market share of 15.6 per cent. Lenovo came in fourth and was the only major PC player in the UK to grow, up nearly 20 per cent, taking its share to 12.4 per cent.
Acer and Toshiba both declined, by 11.7 per cent and 19 per cent respectively.
IDC added that the top three UK slab vendors are Apple, Samsung and Amazon, but declined to give further specifics. ®