Dell uncloaks novel workstation trio, plops one into cloud
Versatile rack mount, entry-level minitower, itsy-bitsy cutie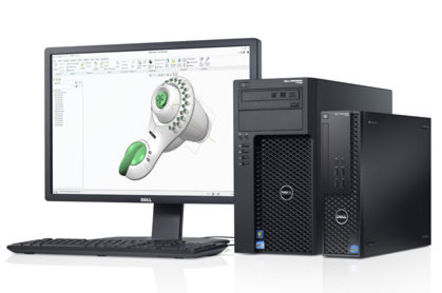 Dell has filled out its workstation line with three new machines: a versatile, virtualizable 2U rack-mountable big boy, an entry-level minitower, and the minitower's little brother – which, if a workstation could ever be called "cute", would be a leading candidate for that designation.
Speaking at a pre-briefing earlier this week about Dell's work with its customers to develop its workstation line, the executive director of Dell Precision Workstations Efrain Rovira was sweeping in his praise for his company's products.
"Whether it's engineering, media and entertainment, life sciences and health, oil and gas," he said, "we're applying that vertical lens to be able to deliver a solution that is just better than any other solution the customer can get."
Whether Dell's new workstations are "just better than any" of their competition, we'll let the market decide – but the three machines announced on Thursday do have some impressive features. Let's start with the two entry-level boxes, the Dell Precision T1700 Mini-Tower and Small Form Factor workstations.
"Both these systems are the smallest workstations in their class," said Ron Lebert, single-socket workstation senior product manager. "And actually, the Small Form Factor is 30 per cent smaller than our competition."
The two machines are the fourth generation of Dell's entry-level workstations, and when they ship they'll be powered by Intel's "Haswell" Xeon and Core processors, and will be available with a variety of Nvidia Quadro and AMD FirePro graphcs cards, along with Intel HD Graphics P4600/4600 if high-level graphics performance is not required.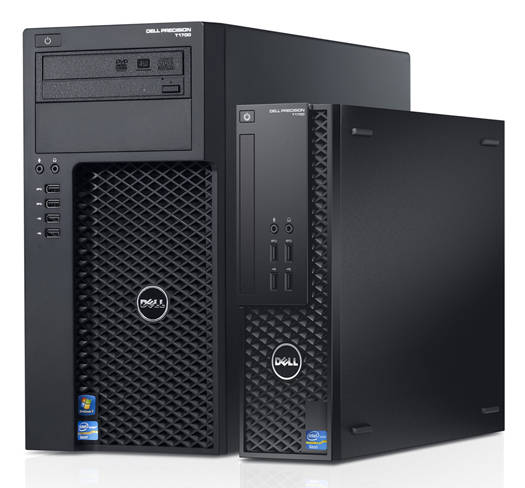 Dell's new Precision T1700 Mini-Tower and Small Form Factor workstations (click to enlarge)
Both of the T1700s have a plethora of ports, including two USB 2.0 and two USB 3.0 ports on the front, along with four USB 2.0, two USB 3.0, two DisplayPort, and one VGA port on the rear. Inside, both have two SATA 6.0Gb/s and two SATA 3.0Gb/s ports; the Mini-Tower also has one USB 2.0 port inside.
The Mini-Tower, which is 14.2 inches high, 6.9 inches wide, and 17.1 inches deep, includes one PCIe x16 Gen 3 slot, one PCIe x16 Gen 2 wired x4, one PCIe x1, and one PCI 32bit/33MHz. It also provides two internal 3.5-inch storage bays, each of which can accept either one 3.5-inch drive or two 2.5-inch drives.
The Small Form Factor unit is 11.4 inches high, 3.7 inches high, and 12.3 inches deep. Inside is one PCIe x16 Gen 3 slot, one PCIe x4 (open ended) wired x4, and one internal 3.5-inch bay that can also accept two 2.5-inch drives.
Both also support up to two optional DVD-ROM; DVD+/-RW drives, and the Mini-Tower can also have an optional 19-in-1 media-card reader installed in one of its two external 5.25-inch optical-drive bays.
Operating system options for each include 64-bit Windows 8 Pro, Windows 7 Ultimate and Professional, 32-bit Windows 7 Ultimate and Professional, and Red Hat Enterprise Linux. Ubuntu 12.04 Linux is also offered – but for reasons unexplained, only in China.
Both the Dell Precision T1700 Mini-Tower and Small Form Factor workstations are, as Lebert emphasized, entry-level machines. Not so the 2U rack-mount Dell Precision R7610, which was introduced at the event by Patrick Kannar, Dell's director of workstation product marketing.
"It looks very much like a server," Kannar said. "In fact, it is the server form factor that we've adopted across Dell. But it's designed as a workstation." And not just any workstation – Kannar claims that the R7610 is "the most powerful rack workstation on the market."

The new Dell Precision R7610 rackmountable workstation (click to enlarge)
So what makes the R7610 a workstation rather than a server? From Kannar's point of view, it's the combination of the "highest performance CPUs and highest-performance GPUs available." In this case, that means one or two eight-core "Sandy Bridge" Intel E5-2600-series Xeons, and the choice of a broad range of Nvidia Quadro and AMD FirePro PCIe x16 Gen 2 or Gen 3 cards running on 675 watts of available graphics juice – that would be a maximum of four single-wide or three double-wide 150W or 225W graphics cards.
Storage options include 7,200rpm SATA, 10,000rpm or 15,000rpm SAS, or SSD drives. Memory is handled by 16 DIMM slots (8 per processor), which can handle up to 256GB 1600MHz qual-channel ECC RDIMMs, with 512GB RDIMMs "coming soon."
The R7610 supports Dell's bad sector–quarantining Reliable Memory Technology (RMT), and – like the two T1700 boxes – also supports the Dell Precision Performance Optimizer (DPPO), an app that uses a set of application-specific, performance-optimizing profiles to automagically tunes the workstations for the apps you choose.
Ports are essentially the same as those on the T1700, with the exception of the front-mounted USB ports – unlike its smaller bretheren, the R7610 has but two USB 2.0 ports on its front panel. Operating system choices are the same as the T1700s.
Being rack-mountable in a standard 2U form-factor, the R7610 is designed to live in a data center – a home that Kannar said offers a host of advantages. "We're thinking about not only the end user and how they want to use this to run their applications, but we're also thinking about how the IT manager wants to deploy this system in the environment where it's going to be used."
Kannar said that Dell customers have told him that they want to house their workstations in more secure environment, and to have them more easily managed. They've also told him, he said, that they want to improve their work environments, so moving hot and noisy workstations out from underneath desks and into the data center is a plus.
In addition, moving workstations into the data center makes it easier for users to access them remotely. "They want to be able to work around the clock and follow the sun," he said, "so they have to have access anywhere, anytime."
Data-center installations also offer added security, Kannar said, and gave an example of a Dell customer that he identified as "one of the biggest oil companies in the world." The fossil-fuel hunter is working with Dell to consolidate all of its global geophysical data from 27 sites around the world to a centralized data center "to manage it effectively, keep it protected, keep it cooled, keep the runtimes high, and maximize the kinds of workflows that they want to use," he said.
Another advantage of data-center workstations would be outsourcing, Kannar said, giving the example of a Japanese Dell customer that is centralizing its workstations in their headquarters – "in a country that is, in some cases, more protective of IP" – and from there providing access to them by subcontrators in China, India, and other countries.
To accomplish this remote access, Dell vertical market strategist for media and entertainment and engineering Scott Hamilton demoed an R7610 equipped with a Teradici PC-over-IP (PCoIP) PCI Gen 2 card connected to a Dell Wyse P25 zero client over Ethernet – although a WAN connection is also possible, as is both inside- and outside-firewall use.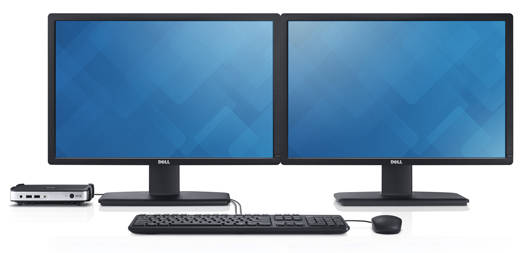 A Dell Wyse P25 zero client allows your R7610 to live in the data center (click to enlarge)
The Teradici card takes data from the R7610, compresses it in hardware, and sends it to the P25, which decodes it, also in hardware, and sends it to up to a pair of HD displays. This hardware-centric encode/decode set-up, Kannar said, "compensates for the fact that in many cases, maybe the bandwidth requirements around the world do not necessarily support a software-based solution around remoting."
In such a remote set-up, of course, reasonable bandwidth is key to avoiding "click and wait" latencies, so The Reg asked Hamilton what those requirements might be. "If you're local in a building and you have a decent network, no problem," he said. "Now when you start getting outside the building, now you really need to be concerned about latency and you have to design the network properly."
The remote system, another Dell engineer told us, is designed to dynamically suck up every scrap of bandwidth available to it, although Dell provides a host-based app that lets you dial it down to be less greedy, should you prefer.
Hamilton also told us that latencies would be affected by a number of factors, including the number of users hitting the R7610 at any one time – which brings up one final aspect of Dell's new rackable workstation: virtualization – or, as Kannar put it, "more of a virtualized workstation environment."
Customers from global enterprises to SMBs, he said, are crying out for workstation virtualization, so Dell is "moving from a one-to-one solution to the beginnings of a one-to-many solution."
The R7610 begins that process by offering a one-to-four setup. When configured with four graphics cards, the rackmountable workstation can send 100 per cent of the graphics oomph of each of those cards to individual clients, independently running separate applications.
"The way this is enabled," he said, "is a combination of what some of our partners are being able to provide us; primarily we have the Citrix XenDesktop HDX 3D Pro, so if you have a Citrix environment, you can easily deploy this kind of a solution."
This one-to-four virtualization will be enhanced, Kannar said, to a one-to-many setup in both private and public clouds. "We're going to move very quickly to the next level," he said. "We want to go as far as we can beyond one-to-four, and get out to, well, we're still determining what that 'many' is going to be."
Expect that decision to be made and one-to-many cloudy offerings to be available late this year or early next, he said. ®
Sponsored: Becoming a Pragmatic Security Leader