Dixons feasts on corpse of Comet, chortles over 'slab bonanza
Pixmania and southern EU remain sore boils on bottom line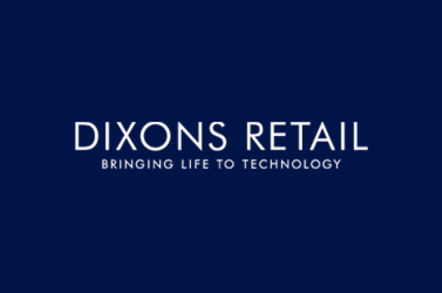 PC World and Currys helped steer sales growth at Dixons Retail in fiscal '13 ended 28 April against the background of a land grab for fallen Comet's trade and a boom in slablets.
In a trading statement today - preliminary numbers are filed on 20 June - the retail mammoth said like-for-like Q4 sales climbed seven per cent on a year ago and edged up four per cent for the twelve months.
Turnover in the UK and Ireland shot up 13 per cent in Q4 and seven per cent for the year, "achieving our aim of gaining more than our share of market following the demise of competitors".
A roaring trade in Northern Europe continued with sales leaping 12 per cent on the back of market share gains in that area too.
The operational boils on Dixons' backside are still Turkey, Italy and Greece (down eight per cent) and web store Pixmania which saw sales tumble 24 per cent.
Sorting out the operations in Southern Europe is not specific to Dixons, others are struggling with the economies there too, but Pixmania "continues to be very challenging", it said.
Dixons parachuted in director Phil Berbeck to turn around the foundering web emporium last summer as the retailer took full ownership of Pixmania.
Berbeck has since pulled Pixmania out of nearly half the countries in which it operated, slashed headcount and disposed of the Webhallen and PLS tentacles for roughly £15m in cash.
Back at Christmas, Dixons hailed the 'slab "phenomenon", and while this has kept the cash tills ringing, it also helped to dampen gross margins, which fell 0.7 per cent in the year. This is something tech disties have also noted.
This was "driven largely by product mix as well as our continued drive for even better value for customers" - the latter means price cuts to pull in the punters.
Group full year underlying profit before the taxman takes his slice is estimated to be between £75m to £85m - the top end of forecasts. In fiscal 12, Dixons made a pre-tax profit of £70.8m.
Sebastian James, Dixons chief exec, said the firm is "feeling a little wind in our sails and we want to make sure that, in spite of continued economic uncertainty, this carries on into next year and beyond". ®