Speaking in Tech: Explicit vid reveals hot tech stars in LIVE STRIP SHOW
Topless VP shows some skin after losing 'humiliating bet'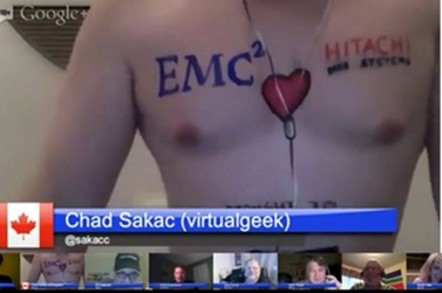 Podcast

It's the first anniversary of El Reg's weekly enterprise podcast and hosts Greg Knieriemen, Ed Saipetch and Sarah Vela have an incredible all-star lineup this week - plus an EXPLICIT VID of a topless EMC veep.
Their special guests this week are Chad Sakac, senior VP Global Systems Engineering at EMC; John Troyer, director and social media evangelist at VMware; Amy Lewis, community evangelist at Cisco; Greg Schulz, THE MAN at StorageIO; and Marc Farley, storage and social media guy for Microsoft.
This week, Sakac strips off after losing a "humiliation-based bet" on Dell going private... to reveal an interesting tattoo. They also chat about the Pivotal launch (aka "Google in a box"), and "branding the cloud". You can watch the video below but you could also download the podcast, or, better yet, subscribe via iTunes, Google or Stitcher so you get your weekly dose automatically.
This week we discuss...
Speaking in Tech celebrates our one-year anniversary
"THE BET" Sakac goes topless with an "EMC hearts HDS" Tattoo on his chest
Where will Dell go next? How will it impact customers?
Consumerisation of IT
The big Pivotal launch
Pivotal CEO Paul Maritz's journey to the cloud takes a right turn
How do Big Data and cloud mix?
Microsoft is the elephant in the cloud platform room
Brands and clouds
The big conferences in the next six months
Listen with the Reg player below, or download here.
Podcast Subscriber Links
Subscribe through iTunes
Subscribe through Google
Subscribe through Stitcher