iPhone 5 totters at the top as Samsung thrusts up UK mobe chart
But older Apples are still holding their own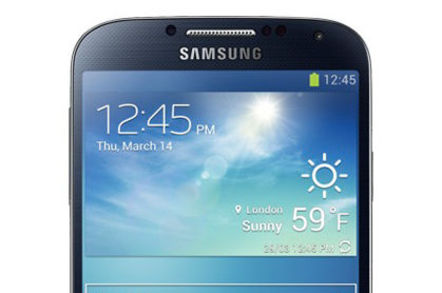 Apple's three most recent mobiles together took more than a quarter of smartphones sales in Britain during the first three months of 2013, we're told.
The iPhone 5 was the period's most popular handset, but the Cupertino giant's UK market share continues to be eroded by Android - and even Windows Phone 8.
Google's Linux-derived OS Android now commands 58.4 per cent of the UK smartphone market. Microsoft's has seven per cent, up from the 2.9 per cent it had in Q1 2012. Back then, Google had less than 50 per cent of this market, Apple more than half. Now Cupertino commands less than a third - 28.9 per cent - according to Kantar Worldpanel ComTech, a market watcher that puts together its figures by asking phone users what they bought.
The iPhone 5 accounted for 15 per cent of the smartphones acquired in Q1 2013, but Samsung's Galaxy S III wasn't far behind: it took 11.4 per cent. The iPhone 4 and 4S are still doing reasonably well, racking up numbers - 4.9 per cent and 7.5 per cent, respectively - which are akin to their immediate competitors: Samsung's Galaxy S III Mini, Ace, Ace II and S II, and Google's LG-made Nexus 4. Respectively, these other devices had UK shares of 5.7 per cent, 5.4 per cent, 3.4 per cent, 3.4 per cent and 3.6 per cent during Q1, Kantar Worldpanel ComTech said.
The numbers show that Apple's older phones are still popular, and that they're holding their own against rival second-tier smartphones. Perhaps Apple's problem is not so much growing consumer interest in Android but that it just doesn't have a sufficient number of models on the market to stand out effectively from the number Samsung has put on the table.
The big market share leads shown by the iPhone 5 and the Galaxy S III show the UK smartphone market is a two-tier one: the top-end, latest phones fighting each other and, separately, the remainder sorting it out among themselves. Apple may be right at the top, but it's hard to see it staying there in the short term.
The iPhone 5 is now battling the Galaxy S4 and, to a lesser extent, the HTC One - though HTC's absence from the Q1 2013 smartphone top ten shows it will have to work hard to get up there into the top three with Apple and Samsung.
The S4 will clearly go straight to the top of the Q2 chart, and is almost certaingly going to displace the iPhone 5. Apple isn't expected to release its own next-gen model until the autumn, giving Samsung six months to cement a lead.
Microsoft's UK market share gain, meanwhile, comes largely on the back of Nokia's latest smartphones, though none of them sold well enough to make Kantar Worldpanel ComTech's Q1 2013 top ten. BlackBerry - aka RIM - did, but only just. Its Curve 9320's two per cent market share was enough to put in tenth place. BlackBerry's overall UK OS share is 5.1 per cent.
Compare that to the US, where BlackBerry is now down to 0.9 per cent of the smartphone OS market, and Windows Phone rose year on year, from 3.7 per cent to 5.6 per cent. Over there, Android and Apple dominate, in almost equal measure: their shares are, according to Kantar Worldpanel ComTech, respectively 49.3 per cent and 43.7 per cent.
Has the Galaxy S4, its US debut recently delayed, the ability to force a bigger gap between the two OS' shares before the iPhone 6 appears? ®
Sponsored: Your Guide to Becoming Truly Data-Driven with Unrivalled Data Analytics Performance