Fried-egg sarnies kick off Reg man's quid-a-day nosh challenge
An egg-shell-ent start - but bacon, booze is off the menu
Coffee, bacon and black pudding were strictly off the menu this morning as this hack kicked off his "Live Below the Line" challenge with a couple of fried-egg sarnies and a mug of builders' tea.
Until Friday, I have to subsist on just £1 a day for food as I participate in "an innovative awareness and fundraising campaign that's making a huge difference in the fight against extreme poverty".
Or rather, I have to make do with just €6 for the week, based more or less on the current exchange rate. Here's what €5 of that looked like after a shopping expedition on Saturday, here at El Reg's Iberian Bureau: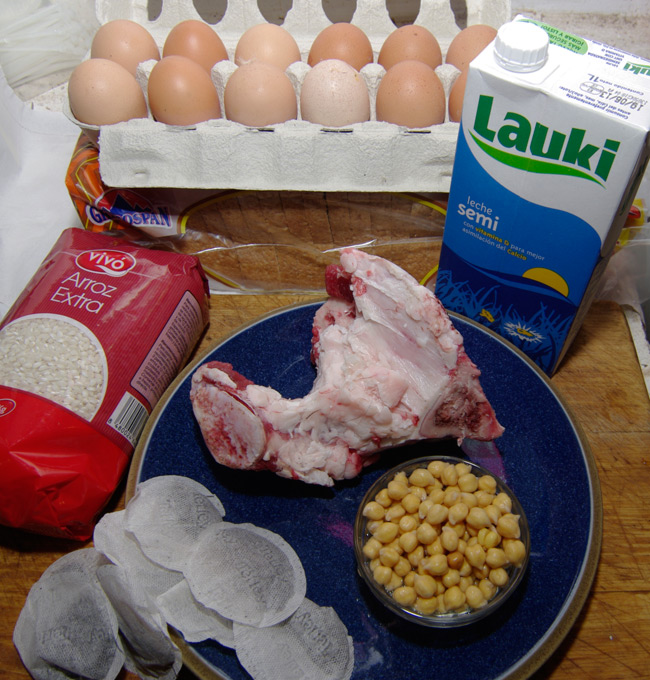 This is it until Friday
The breakdown is:
Loaf of bread: €1
Dozen eggs: €1
Kilo of chickpeas: €1
Kilo of rice: €1
Litre of milk: 70 cents
30 teabags: 30 cents
As you can see, I also got some dirt cheap (20 cents, 17p) bones from the butchers, and allocated the remaining 80 cents to extravagances such as an onion, a clove of garlic, some paprika and two teaspoons of herbs.
I'm obliged to those readers who pointed me in the direction of British supermarket budget nosh, such as pasta for 20 pence, and three tons of noodles for a quid, but things don't work quite like that in sunny Spain, or at least not round here.
Accordingly, I had to settle for the cheapest basics I could find, with a view to knocking up a huge pan of chickpea stew, with the garlic, paprika, herbs and beef bones thrown in to provide some form of flavour.
I've got the aforementioned egg sarnies for breakfast, with the delicious prospect of stew for lunch and dinner, with or without rice, depending on how hungry I get.
All of this will be washed down with a nice cuppa (I've got enough teabags and milk for six brews a day) and water, fresh from the village fountain.
So, I'm in business, but one question remains: will the challenge prove harder on me or on my local bar owners, who greeted the news I'd be off the booze for a week with a mixture of disbelief and dismay.
We shall see. In the meantime, all of this suffering is for a good cause. I'm supporting Malaria No More UK, and if you'd like to join readers who've already kindly chipped in a few quid, you can give it up for charity right here.
Now, if you'll excuse me, I'm off to stick the kettle on and get the chickpea stew on the boil. More tomorrow... ®