You hear that, Mr Cook? Samsung's profits have gone UP
Remember when Apple's used to do that?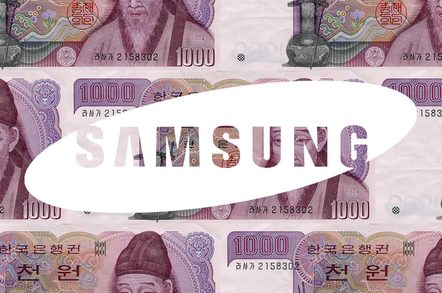 Samsung Electronics is toasting a massive hike in its Q1 profits fuelled by sales of smartmobes and tabs but warned cheaper kit flooding the market may "dampen" its next quarterly numbers.
Sales for the period ended 31 March climbed by 16 per cent to 52.87tn won (£30.7bn), boosting operating profits by 50 per cent to 8.78tn won (£5.1bn) and net profit by 41 per cent to 7.15bn ($6.4, £4.16bn).
The South Korean firm's figures make for uncomfortable reading for Apple CEO Tim Cook as his company's fortunes start moving in the opposite direction.
The IT and Mobile Communication Divisions saw sales bounce seven per cent year-on-year to 32.82tn won (£19bn). The firm said "sound sales" of the Galaxy SIII and Galaxy Note II devices "aided" profit margins.
According to the Q1 numbers from Strategy Analytics, Samsung seized 33 per cent of global smartmobe market share, almost two times higher than Apple's Jesus Phone.
In a canned statement, however, Samsung said "we may experience stiffer competition in the mobile business due to expansion of the mid- to low-end smartphone market".
The quarter "proved trying" for the PC business - the company is not alone here - and the global expansion of LTE networks lifted earnings for the Network Business by upping supply of 4G wireless gear.
Samsung reckons its tonic for "lacklustre" PC demand is to shift the product mix to mid- and high-end configurations.
The Display division reported sales of 7.11tn won (£4.13bn), down eight per cent on the last quarter: "The global economic slowdown affected consumer spending amid weak seasonality".
"Samsung saw the average selling price of LCD panels decline in the upper single-digit percentage range," it added.
The semiconductor division, including memory and systems LSI, saw sales fall eleven per cent to 8.58tn won (£4.98bn). PC DRAM declined for obvious reasons but mobile DRAM for smartmobes and tabs remained stable.
"Prospects for the PC DRAM market are uncertain as tighter demand and narrower market size weigh on suppliers," said Samsung.
The Consumer Electronics division reported sales of 11.24tn won (£6.5bn) with TVs showing modest growth on a year ago.
Samsung's spokesman said in the statement: "Although market uncertainties from the European crisis and the slow global economic recovery are still lingering, we expect to increase R&D spending for strengthening our competitiveness ahead of planned new product launches". ®
Sponsored: Detecting cyber attacks as a small to medium business