Can't find your motor? Apple patents solve car park conundrums
Cupertino to enable world+dog to find its lost Ladas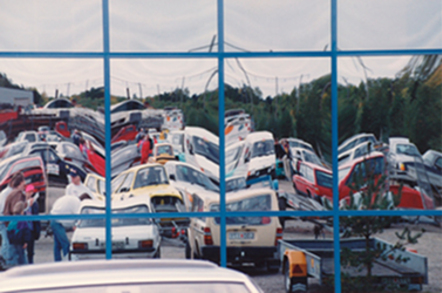 Apple has filed a series of patents which will help people find their motors in a crowded car park and then open the doors without using a key.
The patents that emerged today are called "method for locating a vehicle" and "accessing a vehicle using portable devices".
The first sets out a system for anyone who wants to leave their motor in a "parking structure", or "car park" for anyone not fluent in Cupertinian.
This would allow a confused driver to discover the location of their car using a "portable computing device" which communicates with a network inside the carpark as well as a location system in the vehicle.
Using Bluetooth, a parked car would be able to transmit data about its location to wireless sensors built into the carpark, which could be embedded in gates, elevators or even in parking spaces themselves.
Cleverly, the sensors will be able to tell whether a car's engine is running using visual or audible clues, perhaps by listening in to see if an alarm is going off because the car door is open.
If the proposed iCarPark becomes a reality, it would mean an end to losing your motor during a visit to the shops.
The other patent allows drivers to open their car using their smartphone to replace the fobs currently used as car keys. Drivers will be able to grant one other device the right to access the car, as well as imposing limits on what times that device can start the engine, and even the speed the car can be driven at - perfect for the parents of petrolhead teenagers.
Apple has been looking to get involved in the car world for some time. The Register previously covered the release of an iBeetle, complete with all sorts of Apple bells and whistles, and nine automotive manufacturers have agreed to incorporate the Siri Eyes Free system, which allows drivers to use Siri without taking their eyes off the road.