Not even Facebook, Apple's millions can halt Fusion-io's bleed
Still, there's always next quarter for flash biz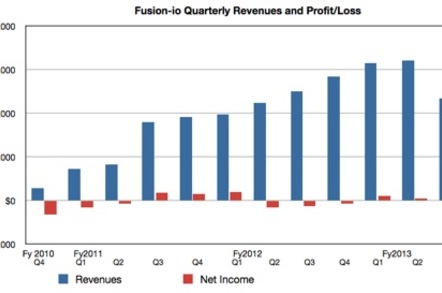 Storage firm Fusion-io reported ugly results for its third fiscal 2013 quarter, with revenues down - albeit higher than analysts had expected - and a thumping loss.
Flash NAND customers Apple and Facebook made up a whopping 50 per cent of its revenue in the second quarter, but execs said the customers' buying patterns led to an anticipated "two-quarter shift in the timing of their bulk purchases" - translation: the orders were down in Q3.
Just a few days ago, the SSD-maker splashed $119m on hybrid flash-disk array vendor NexGen, so it clearly sees things looking up eventually.
We can't put it any better than Fusion-io's own statement:
Fusion-io reported revenue of $87.7m for the fiscal third quarter 2013, down 7 per cent from $94.2m for the same quarter of 2012 and down 27 per cent from $120.6m for the preceding quarter. Net loss for the fiscal third quarter of 2013 was $20m.
The year-ago quarter's net loss was $4.7m while Fusion made a profit in its fiscal 2013's second quarter of $1.7m.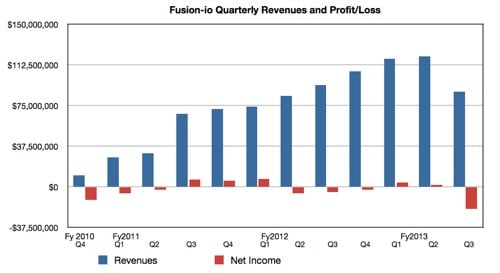 What did chairman and CEO David Flynn have to say?
"We are pleased by our traction this quarter, driven by strength in our core business as well as our healthy pipeline of new hyperscale customers. With the acquisition of NexGen Storage, Fusion-io is aggressively expanding into the small to medium enterprise market with a hybrid solution that cost-effectively achieves the performance of an all-flash array. NexGen's hybrid storage system creates growth opportunity in an important market segment and strongly complements our portfolio of software defined, open systems."
Er, and the revenue fall and thumping loss? This was foreshadowed in the previous quarter's results when Fusion said it feared revenues could decline by up to 30 per cent and it could make a loss of between $10m and $15m. The revenue decline wasn't so great but the loss surely was.
It's due to a slowdown in Fusion-io product purchases by Facebook and Apple, although chief exec David Flynn told analysts the firm hadn't been holding its breath for anything more: "[Facebook and Apple's] orders this quarter were in line with our expectations," he said during a call with analysts.
CFO Dennis Wolf emphasised that Fusion's customer base is broadening. Wolf appeared to imply that the firm should become less dependent on Facebook and Apple eventually: "This past quarter we had four customers each order in excess of $5m and 12 customers each order more than $1m in verticals ranging from cloud services to telecommunications to the public sector.
"Our ioScale product is showing notable traction as customers supporting cloud and Big Data applications appreciate our software systems capabilities that offer them a very compelling ROI on their data centre infrastructure spend."
Cash and equivalents at the end of the quarter amounted to $354.6m - so it doesn't look like there's no danger Fusion will run out of cash.
What's the outlook for the fourth quarter?
Fusion expects revenues to be about $110m with full fiscal year 2013 revenues of about $435m, up from last year's $359.3m. The company will be hoping that Facebook and Apple will resume substantial ordering of product - and the next time they slow down, the company's "ever-broadening customer base" will lessen the effect. ®
Sponsored: What next after Netezza?