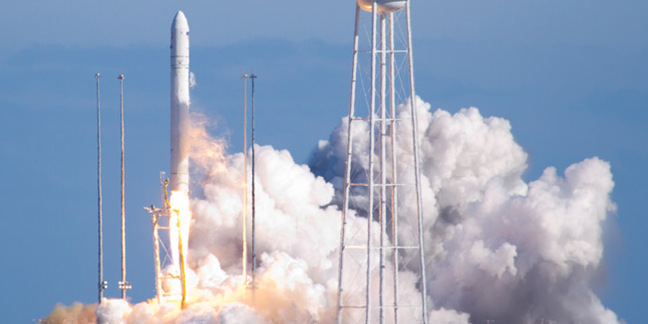 Comment There was much popping of champagne corks and back-slapping last Sunday when Orbital Sciences Corporation's Antares rocket finally blasted off from the launch pad at NASA's new Wallops Flight Facility in Virginia.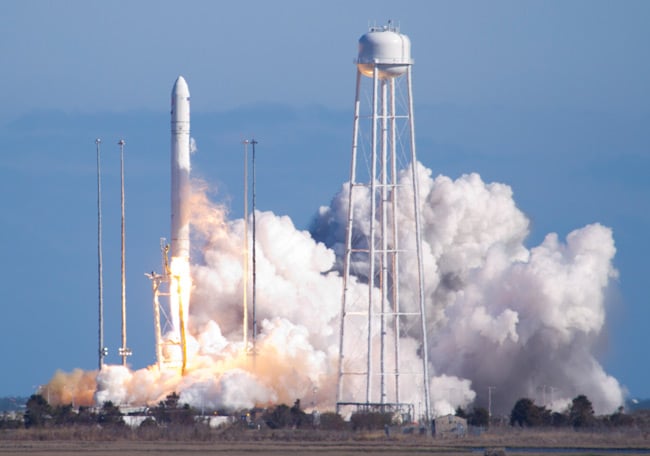 Antares soars heavenwards on 21 April
Following a launch abort on 17 April due to the "premature disconnection of a second-stage umbilical", Antares soared heavenwards carrying a dummy payload ahead of a demonstration supply mission to the International Space Station (ISS) later this year.
NASA administrator Charles Bolden trumpeted: "Today's successful test marks another significant milestone in NASA's plan to rely on American companies to launch supplies and astronauts to the International Space Station, bringing this important work back to the United States where it belongs."
He added: "Congratulations to Orbital Sciences and the NASA team that worked alongside them for the picture-perfect launch of the Antares rocket. In addition to providing further evidence that our strategic space exploration plan is moving forward, this test also inaugurates America's newest spaceport capable of launching to the space station, opening up additional opportunities for commercial and government users."
Antares is the second rocket to get off the ground under NASA's Commercial Orbital Transportation Services (COTS) programme. Several contenders went head-to-head in this initiative, designed to help the private sector "develop and demonstrate its own cargo space transportation capabilities". Orbital Sciences and SpaceX were eventually selected to move forward to COTS Phase 2: ISS Commercial Resupply Services.
SpaceX has already proved itself with several launches of the Falcon 9, and has successfully mated its Dragon capsule with the ISS.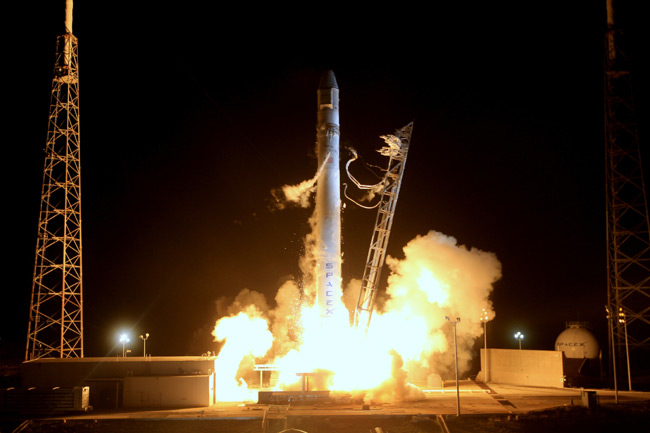 SpaceX's Falcon 9 blasts off from Cape Canaveral Air Force Station on 22 May, 2012, on the Dragon demonstrator mission
Orbital Sciences must now follow suit with its Cygnus "advanced maneuvering spacecraft", slated for lift-off later this year.
If all goes according to plan, the US will by the end of 2013 have two space truck systems capable of resupplying the ISS, in line with NASA policy of handing low Earth orbit (LEO) duties over to the private sector. The agency, meanwhile, will focus on the long-term goals of getting boots on an asteroid by 2025 and the Red Planet by the 2030s - if it can raise the cash.
After Sunday's Antares launch, NASA's John Holdren, director of the Office of Science and Technology Policy, said: "The growing potential of America's commercial space industry and NASA's use of public-private partnerships are central to President Obama's strategy to ensure US leadership in space exploration while pushing the bounds of scientific discovery and innovation in the 21st century."
He concluded: "I congratulate Orbital Sciences and the NASA teams at Wallops, and look forward to more groundbreaking missions in the months and years ahead."
The use of "groundbreaking"* here is perhaps a little enthusiastic. Europe, Japan and Russia already have vehicles able to make deliveries to the ISS, with their respective automated transfer vehicle (ATV), H-II Transfer Vehicle (HTV) and Soyuz.
It's arguable, therefore, that Dragon and Cygnus serve no practical purpose beyond that of laying the groundwork for future manned US LEO missions intended to address the uncomfortable position of being the nation that put a man on the Moon currently relying its former Cold War adversary to get bodies aloft.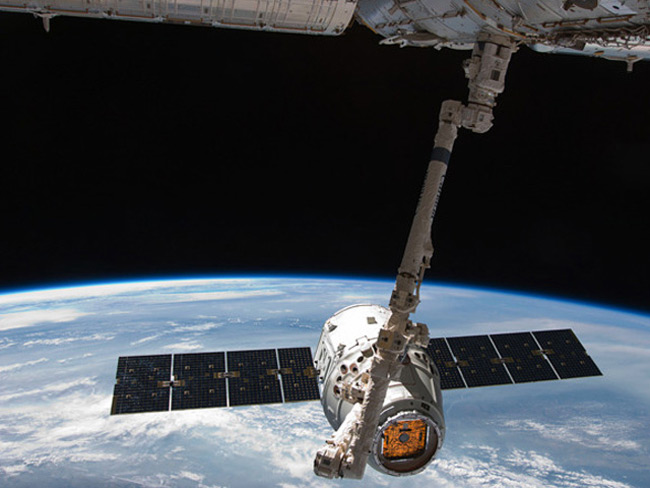 Dragon demonstrator prepares to mate with the ISS on 25 May, 2012
SpaceX's Dragon vehicle is designed for a "human rating" conversion with minimum fuss. NASA's confident its "commercial space partners are making progress toward a launch of astronauts from US soil in the next 5 years".
The other driving force behind COTS is, critically, US jobs. When the a Dragon capsule made its first contracted supply run to the ISS back in October 2012, Charles Bolden said: "Under President Obama's leadership, the nation is embarking on an ambitious space program that is bringing critical launches back to the United States, in-sourcing American jobs, and keeping the nation on the cutting edge of technology development and innovation, all the while, maintaining America's world leadership and dominance in space exploration."
SpaceX is contracted for 12 flights to the ISS, for a total of $1.6bn, with an option for "additional missions for a cumulative total contract value of up to $3.1 billion".
Orbital Sciences will trouser $1.9bn for eight resupply flights. The combined Commercial Resupply Services budget means US citizens in work, and that's good for business and it's good politics, too. ®
Bootnote
*The rocket tech used to lift Dragon and Cygnus aloft is hardly groundbreaking either. The Merlin engines on SpaceX's Falcon 9 burn kersone/LOX, with the same mix deployed on the Antares first stage's twin Aerojet AJ-26s - actually rebranded Soviet-designed NK-33s.
The Antares second stage relies on an Alliant Techsystems CASTOR 30 solid rocket unit, packing 20 per cent aluminium powder in a hydroxyl-terminated polybutadiene (HTPB) binder.
For something a little more cutting edge, try SpaceX's Grasshopper Vertical Takeoff Vertical Landing (VTVL) vehicle, designed "to test the technologies needed to return a rocket back to Earth intact".
Sponsored: Practical tips for Office 365 tenant-to-tenant migration