Galaxy S4 radiant, but has black holes
Samsung's new flagship does a lot very well and tries hard at everything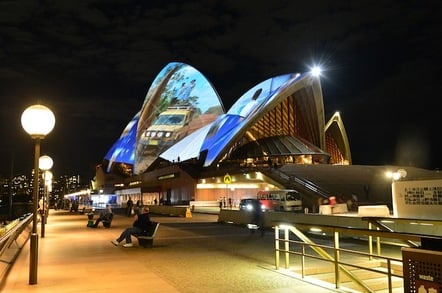 First Look Samsung's Galaxy S4 is as wonderfully polished as you would expect from the Korean manufacturer's latest flagship, but the software the company says turns it into a "life companion" will be an acquired taste for many.
Samsung yesterday officially launched the S4 for Australians at a lavish event staged at Sydney's Opera House. The winner of the first season of Australian Idol sang, a popular Australian TV chef's restaurant did the food and the city's famous Harbour Bridge was impossible to miss from the marquee erected for the occasion. The Opera House's famous sails were adorned with images entered into a competition by owners of other Samsung phones. Those snaps were projected onto the building using the same technology only previously unfurled at the annual Vivid Festival, a winter arts happening that has been curated by the likes David Byrne and Brian Eno.
We mention those details not to engender jealousy (I'm on a one-beer-a-night health regime) but to set the scene Samsung was trying to create for the crowd of media (many of whom represented fashion magazines), dealers, TV personalities and staff. Several S4's were available for extended sessions, although all were tightly tethered to tables and so could not be carried around the room for proper testing of cameras. I was able to use the phone more around 45 minutes.
The S4 lived up to those surroundings and to a balmy and sparkling Sydney autumn evening, as it is certainly a marvellous piece of equipment. It feels rather more solid than its predecessor, which I often felt could be destroyed with a stern twist. The S4's backing plate still feels like it would not survive the effort required to thoroughly crush a soft drink can, which rather makes a hash of Samsung's insistence it's made of the same polycarbonate stuff used in Formula One drivers' helmets. Overall, however, the phone feels more robust than the S III, a welcome improvement given it's thinner and lighter.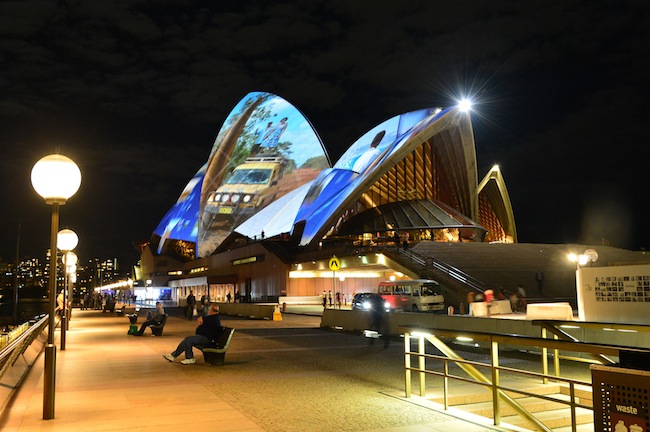 Sydney Opera House covered in projected images captured with Samsung phones
The other big exterior feature, the five inch screen, is a wonder. A video of football highlights was wondrously clear, easily surpassing the quality of the three-year-old Bravia in your correspondent's lounge room. A decided pause moving between landscape and portrait modes took just long enough to induce the beginning of a worry that all was not well with the handset.
We'll happily put that down to the presence of Android 4.2.2 which remains, I feel, a mixed bag because its mixed user interface metaphors offer plenty of chances for early user confusion. The OS wasn't helped by the demo phones on offer insisting their camera firmware needed upgrading, an oversight one would not expect of a new device when taken home, never mind at a big launch.
Google's spawn performed well overall, but in our thirty or so minutes with the handset we experienced many instances of slight lag.
Samsung's made much of the inclusion of several new pieces of software that together make the phone not a mere tool but a "life companion". They don't make the handset a boon companion.
It's obvious that Samsung's motive in including the likes of the new S Health app is to make sure it, and not Google Play, are the main source of value for users. But Samsung's apps are good efforts, not stellar, and it is hard to see they will generate the kind of user loyalty or buzz that third-party services can engender. One reason is weak integration with social networks: the photo app doesn't offer a share to Twitter or share to Facebook option until those apps are installed.
Other Samsung apps disappointed. The company made a big deal of the S Translate software, an app that can translate several languages. S 4 ads shown at the event emphasised S Translate and an on-site competition offered the chance to experience it first hand by engaging with a young woman in traditional Korean costume who helpfully turned English into her native tongue and script.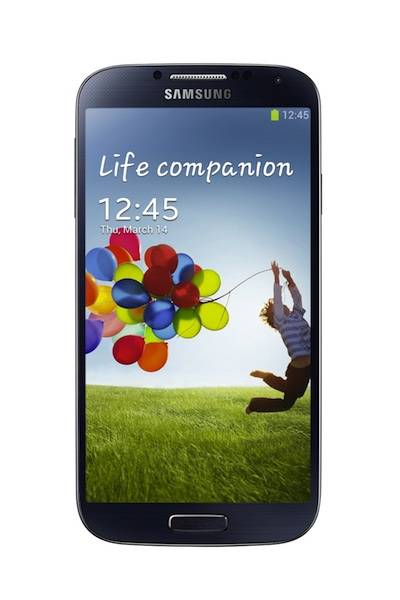 The Samsung Galaxy S4
My own experiments were rather less successful, as attempts to dredge travellers' Spanish from the deep recesses of my mind resulted in some mis-spellings. S Translate was utterly unforgiving of those errors and returned useless translations, hardly the outcome painted in the ads Samsung showed depicting 20-something backpackers navigating tricky cross-cultural moments with their mobes.
Also failing to make a great first impression was the phone's motion sensor which enables one to move forward and back between web pages with a wave of the hand. While the feature works, it's hard to imagine when one might wish to use it. Flapping away on the bus won't be practical or polite. And the S4 is small enough to hold in the hand and operate with a hooked thumb. The gesture-driven feature also frustrated by not being enabled in all applications. An eye icon lights up when it is available, but in the dim environment of the launch it was not always easy to see when its intensity had increased to indicate swiping was an option. More consistency would be reassuring, rather than a big improvement.
More immediately impressive and obviously useful is the feature that lets one hover a finger over the screen to evoke reactions like the first sentence of an email or an enlarged version of a photo from the phone's gallery. It took just one or two tries to get the knack of this trick and it quickly felt like something I'd use a lot were a Galaxy S4 to make its way into my future life.
Finding fault with Samsung's apps and features like motion detection feels a little churlish because the phone packs dozens of casual miracles into a marvellously slim and light package. And while the apps won't excite everyone, it seems very unlikely anyone could be seriously dissatisfied with the S4, which is clearly a state-of-the-art phone produced by a company close to the peak of its form. ®
Sponsored: Webcast: Why you need managed detection and response