Boffins KALQ-u-late the ultimate 'board for two-thumb tablet tappers
Grip that 7-incher and get it pumping out stuff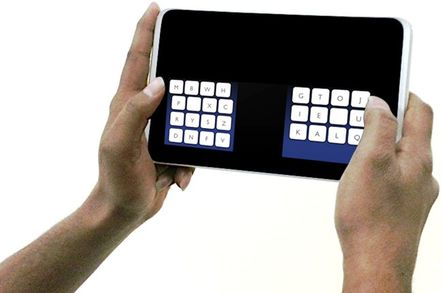 Boffins in Scotland, Germany and the US of A have calculated what they claim is the most efficient two-thumb keyboard it's possible to put on a tablet, at least for folk writing in English on a 7-inch slate.
Researchers at the University of St Andrews, the Max Planck Institute for Informatics and Montana Tech crunched the numbers on "millions" of possible keyboard layouts in order to find the best one for typing using only your thumbs.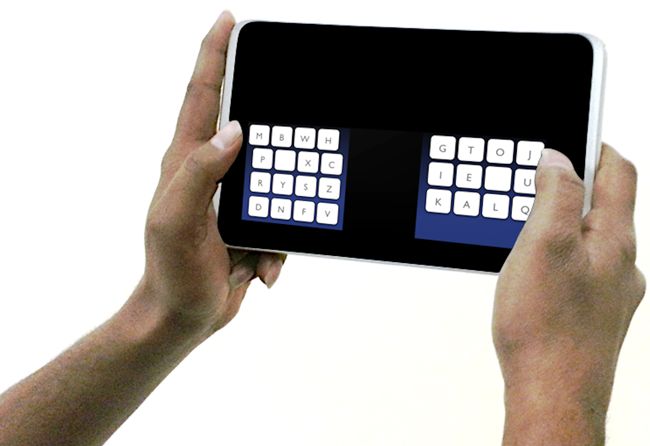 The notion is that punters hold their fondleslabs in both hands at once, leaving only their thumbs free for tapping on virtual keyboards. Modelling the movement of punters' left and right polli, consideration of the impact of automatic error correction, and then applying the results to a raft of keyboard layouts and shapes - many with different sizes of buttons - yielded one that, the scientists say, allows people to thumb-type rather faster on tablets than they can manage with a Qwerty layout.
Normal users using the traditional key array on a touchscreen device can generally type no faster than 20 words per minute. The researchers' proposed alternative, which they call "Kalq" after the bottom right four keys, can get you rattling out emails and messages at up to 37 words a minute - though that requires some extra training, they admit.
It takes around eight hours for users' brains and digits to grow accustomed to the unfamiliar layout, the researchers reckon: four at an absolute minimum, so don't give up too quickly.
"Practice beyond that point will improve the rate further," they add - the more you use it, in other words, the better you get.
"Kalq minimises thumb travel distance and maximises alternation between thumbs," the seven scientists say in a paper submitted on their experimental work. "An error-correction algrithm was added to help address linguistic and motor errors. Users reached a rate of 37 words per minute - with a five per cent error rate - after a training program."
They also found that grip is key. You shoul hold your tablet with its corners - rounded or otherwise - tucked into your palms; don't hold it by the edges alone. Don't move your thumbs to the side when they're not tapping - keep them hovering over the keyboard.
The paper, Improving Two-Thumb Text Entry on Touchscreen Devices, is due to be published in May, at which time the team will release on their website an Android app that implements the Kalq layout on Google OS devices, along with the error-correction and predictive code. ®