Review: Nokia Lumia 720
Ah, a battery life just like the old days
Put on a charge
The phone supports HD voice calling and both earpiece and external speaker were loud and clear. So the 720 and the 620 deal with one of the fair criticisms of the 820 and 920, for being far too quiet outdoors.
The 720 is pitched on its main 6.7MP camera, which boasts a large f/1.9 aperture for better photos in low light conditions. In practice it was a mixed bag, with plenty of scope for improvement for day light shots. The 1.3MP front-facing camera proved to be well above average,
Sample Shots
The 720 also handles wireless charging via a sub-£20 clip-on sled (sold separately). If you've got a couple of Qi chargers you really, really do appreciate the convenience. And the Qi standard is now winning critical support, Samsung will support it in the S4, and so it looks like being the VHS rather than the Betamax of the wireless charging wars.
As for Windows Phone 8 - there's nothing to add that we haven't already said. It's a strong platform that's far more friendly and usable than Android or iOS. It gets better the longer you use it. However, while rival BlackBerry is adding features to its new BB10 system at a furious rate, Microsoft continues at its own sweet pace, which is a very slow pace indeed.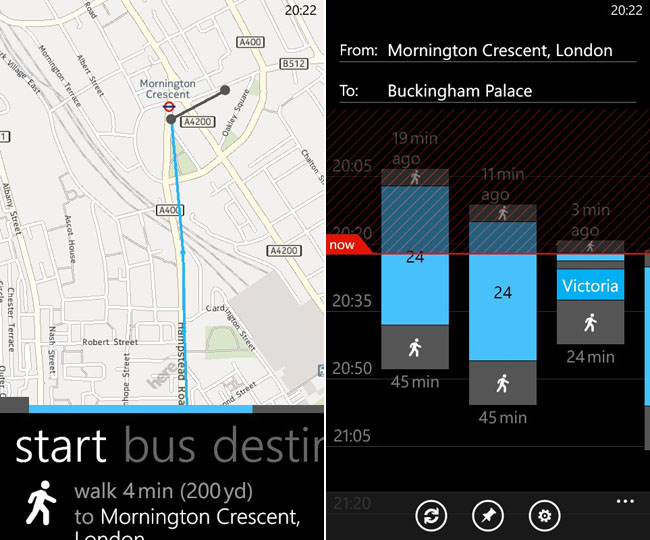 Public outing: Nokia's HERE Transit app
No significant new features have been added in the six months since Windows 8 rolled out last autumn. (There's an official list here). I suspect Nokia could add an impressive amount to WinPho - for example, old favourites such as profiles, and on-device search - in next to no time, if it could. But of course it can't - the platform is locked down so tightly.
Nokia can, however, improve its bundled mapping technology, and this is a major draw. Now branded 'HERE', you get offline vector global maps, turn-by-turn navigation and the City Lens local info app. The brilliant HERE Transit (or Public Transport) is a free download. I found HERE maps invaluable on two recent European trips, Maps uses no data, and Transit found me Amsterdam and Barcelona's buses trains and maps with great accuracy.
So what is Nokia trying to do with Lumia? The intent behind the 520 and 620 is clear enough: provide a far superior alternative to Landfill Android, at Landfill Android prices. And the 720?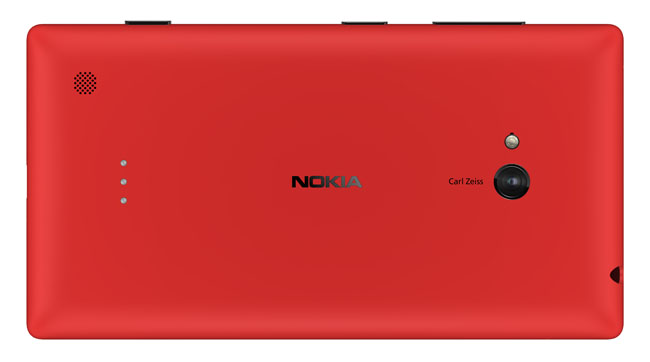 The wide aperture 6.7MP snapper is designed for improved low light shooting
Forget the immediate marketing ("chic") which appears to pitch the 720 as a lifestyle device for fashionable twentysomethings. This is a market loyal to its iPhone and Galaxys. Where the Lumia 620 and 720 really stand out is as reliable, no nonsense functional phones. These phones do the basics brilliantly, and the 720 in particularly has a quite unmatched battery life.
The Reg Verdict
In a way, the Lumia 720 is an honourable successor to the old Nokia 6230, it's just that the 'basics' have changed since 2004, when the 6230 first appeared. This was not a phone for boy racers, but people who wanted a durable, reliable and longlife phone.
The kind of person who will appreciate the Lumia 720 will not be somebody who purchases £35-£40 per month contracts for technology they're not going to need - such as eyeball-tracking sensors. It's a kind of Ford Cortina - and that's no insult. ®
Sponsored: Detecting cyber attacks as a small to medium business

Review: Nokia Lumia 720
Qualcomm Snapdragon S4 Plus-powered WinPho 8 handset with a 4.3in, 800 x 480, 217ppi display, 6.7Mp camera and an impressive battery life.