Astute: Hey small biz, you too can afford speedy flashy goodness
Array biz claims 3-5x speed boost from cheap accelerator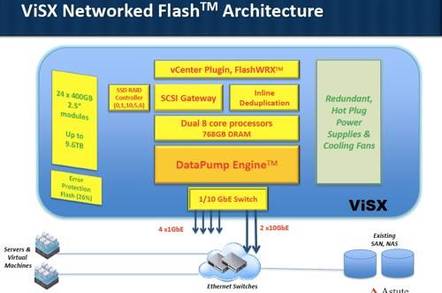 Astute has announced a lower-cost MLC flash version of its ViSX flash-based storage accelerator, saying it's good for small and medium enterprises because it costs about the same as the disk drive arrays they're buying on a $/GB basis.
The ViSX Performance Storage Appliance uses hardware TCP/IP and iSCSI acceleration with its Data Pump ASIC technology. Astute claims this "gives ViSX [a] 3-5X performance advantage over all of its flash and hybrid disk/flash competitors that offer iSCSI-based storage solutions."
The ViSX was available only with eMLC flash, the so-called enterprise-grade NAND, and topped out at 9.6TB in its 2U enclosure. Now it can go up to 45.6TB and use cheaper MLC flash, which doesn't last as long as the e-class stuff. Astute says the MLC ViSX has been designed to offer the industry's lowest cost/GB and highest IOPS/$ for enterprise-class flash storage appliances (whatever that means) at a price that is comparable to disk-based storage systems.
Astute says the less-than 2$/GB price is based on a system with the optional ViSX Performance Dedupe facility, which enables the effective capacity to be more than 250TB; a dedupe ratio of more than 5:1. Of course, your mileage may vary; it depends upon the type of data being deduplicated. Astute seems to be focussing the box on virtualised server and VDI application scenarios, where virtual machines and virtual desktop images should have a good degree of redundancy.
The dedupe operation is said to have no impact on data access performance. The argument for this is that, although the CPU runs the dedupe code, it doesn't have to do TCP/IP and iSCSI processing. These are off-loaded to the Data Pump, so it can do the dedupe without any effective data access lag, compared to other iSCSI arrays which don't offload TCP/IUP and iSCSI processing from the storage controller processor.
Flash storage modules - SSDs - are available in 400GB, 800GB and 1.9TB capacities, which can be mixed and matched within the same ViSX appliance.
The ViSX Replicator supports both synchronous and asynchronous replication and it can be deployed in a local or remote redundant configuration.
The company has also continued its exec revolving door habit; a new CEO and president, Robert MacKnight, was appointed in January, replacing the previous CEO, Steve Topper, who has departed for reasons unknown. There was a B-round funding exercise in June 2012 with board-level changes, and the new board may have decided that Steve T, appointed at the time of the funding round, was not the best man to take the company forward. A company spokesperson said: "After close to 2.5 years, the board felt a need to bring on a CEO who could better accelerate our growth. Steve did a great job in repositioning the company back in 2011 and refocusing engineering. Now it's about accelerating sales."
ViSX Performance Storage Appliances are orderable now with pricing that starts from $32,000 (manufacturer's suggested retail price). ®