More Brits ditch Apple tablets for Amazon, Google, Samsung kit
But iPad Mini is still the UK adults' top-rated slate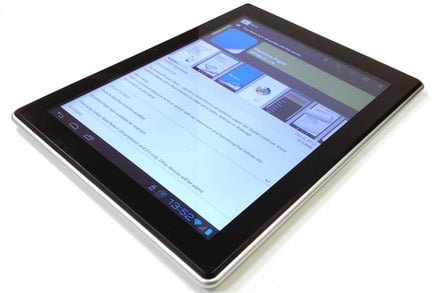 Almost a fifth of the UK's adult population now owns a fondleslab, and while most of them have a tablet with a bitten fruit icon on the back, Apple's dominance is slipping.
So says YouGov, a pollster, which regularly asks Brits about their technology purchases. During the first three months of 2012, 73 per cent of British tablet owners had an Apple product. A year on, Apple fans accounted for only 63 per cent of all slate users.
No prizes for guessing the brands that have benefited from this relative decline: Amazon, Google and Samsung.
Google's share of tablet punters has gone up eight percentage points, Samsung's six and Amazon's five. Neither Amazon nor Google had a tablet out in the UK during Q1 2012, of course. Samsung did, but it could only grab four per cent of the market, according to YouGov's numbers.
Apple's Q1 2012 share combined with Samsung's doesn't total 100 per cent, so there were clearly a fair few also-rans being bought back then - accounting for 23 per cent of tablet ownership, according to YouGov's numbers. In Q1 2013, that "others" figure had fallen to 14 per cent, so it's not just Apple that is suffering at the hands of Amazon, Google and Samsung.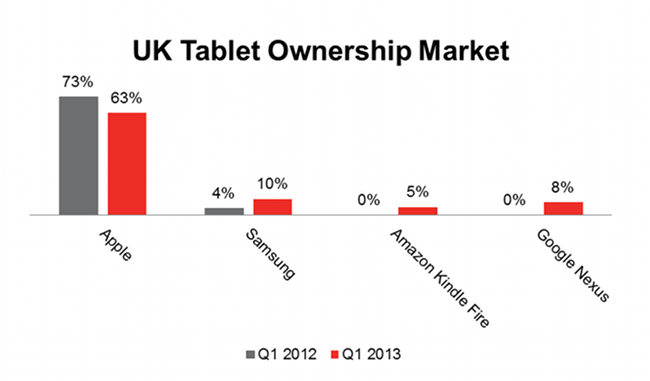 From zeroes to heroes: Kindle and Nexus. Graph via YouGov
But the shift away from no-name Android tablets imported from China toward big-name tablets imported from China - as opposed to Apple-branded kit imported from China - does show why Brits now think Android slates are just as good as the iOS alternatives.
According to YouGov's poll, punters think Samsung's tablets are as good as Apple's iPad, though they still think the iPad Mini is better than all other tablets "across eight of the nine quality attributes" YouGov used to help folk rate their slates.
Similarly, the Nexus 7 gets more plaudits than rival offerings from Samsung, and more than Apple's 10-inch iPad too.
YouGov said that over 18 per cent of the UK adult population - more than eight million grown-ups - now own a tablet, up from the five per cent recorded in Q4 2012. ®