Desultory figures from Intel as Otellini makes his last call
Expects data centers and touch to revive fortunes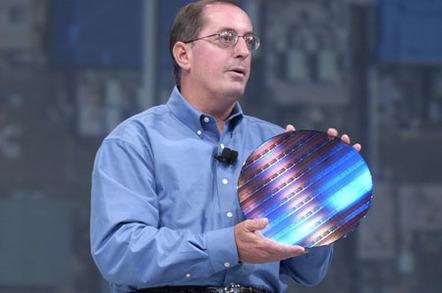 After 39 years at Chipzilla and over 80 earnings calls Paul Otellini has just finished his final one before stepping down in May. He didn't so much leave with a bang as a whimper.
The company booked $12.6bn in revenue for Q1 2013, down nearly a billion from the last quarter, and profits dropped 25 per cent to $2bn, over half of which will be given out as a dividend and another $553m used to buy back 25 million Intel shares. The results were broadly in line with analyst's expectations and Intel stock is up slightly in late trading.
PC sales declined 6.6 per cent over the quarter and 6 per cent on the year, with data center sales down 6.9 per cent for the quarter but up 7.5 per cent compared to 2012. Intel's architecture group revenues fell 3.9 per cent on the quarter and 9 per cent on the year. Margins were down two percentage points.
CFO Stacy Smith said on a conference call discussing the results that the fall in PC sales was in line with expectations, and that the company expects new PC form factors enabled by the forthcoming Haswell processor to revive fortunes somewhat.
OEMs are getting touchscreen laptops out at lower and lower costs, he explained, and Microsoft is driving adoption via Windows 8. Prices for thin, touch-enabled laptops using non-Core processors could drop as low as $200 Smith suggested, although Ultrabooks would cost a lot more.
Data center sales are also looking very promising, Smith said, with the division pulling in 20 per cent of Intel's revenues. As the economy picks up this side of Intel's business will see the benefits, Smith said, sayinf that an increase in economic activity had a direct correlation with data center use.
The company has managed to save over a billion dollars in capital expenditure by getting rid of older manufacturing equipment in preparation for the shift to 14nm production, Smith said. Intel is also using the extra fab space to ensure it has a chip to sell in every market.
"Never in the history of the company has our ability to participate across the spectrum of computing been greater," Otellini commented. "From industrial machines that are increasingly connected to the internet to smaller battery powered devices, from traditional PCs to ultrabooks, and from high-performance servers to micro-servers, storage, and networking equipment we now compete wherever there is computing."
Otellini broke with tradition on the call to reminisce about his 39 years with the company. Intel was just a start-up when he joined in 1974, he said, but the company is now a behemoth with a finger in every pie, and has fundamental advantages in chip design and materials engineering. He prophesied a successful future for the firm.
In a prepared statement the company said that the search for his successor is still going on and the board "hoped" to have an announcement on the subject before Otellini packs up his desk and picks up his leaving card (Wafer?–Ed) in May. ®
Sponsored: Detecting cyber attacks as a small to medium business