IBM pours $1 BEELLION into flash SSDs
Should help IT monolith crush flashy upstarts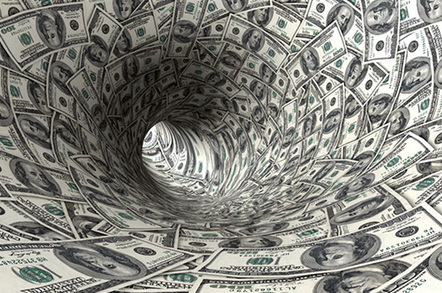 Say goodbye to TMS RamSan and hello to IBM FlashSystem. Back in 2001, IBM CEO Lou Gerstner said IBM would spend a billion dollars to boost its Linux business and that billion paid itself off within two years. In 2002, the firm splurged the same amount on Java tools, and in 2006, pumped $1bn into information management. Fast-forward seven years and Ginny Rometty's IBM is going to spend a billion dollars to boost its flash solid state storage business.
IBM believes that the economics and performance of flash are at a point where the technology can have a revolutionary impact, especially for transaction-intensive applications. Ambuj Goyal, the general manager for systems storage in the IBM Systems and Technology Group, said in prepared remarks: "The confluence of Big Data, social, mobile and cloud technologies is creating an environment in the enterprise that demands faster, more efficient, access to business insights, and flash can provide that access quickly."
Big Blue points out that flash "can speed the response times of information gathering in servers and storage systems from milliseconds to microseconds – orders of magnitude faster. Because it contains no moving parts, the technology is also more reliable, durable and more energy efficient than spinning hard drives."
The billion greenbacks will be used in IBM research and development to design, create and integrate flash into the existing server and storage and middleware portfolio.
A dozen flash competency centres will be set up to help IBM customers make the best use of flash technologies. There are centres planned for China, France, Germany, India, Japan, Singapore, South America, UK, and the US, which should all be operational by the end of 2013. When Big Blue wants to move quickly it sure can move quickly.
The TMS RamSan flash array product line becomes the IBM FlashSystem line. El Reg believes the TMS brand will be replaced but the product numbering will remain unchanged.
As part of IBM's flashdance, so to speak, and as a demonstration of IBM's flash prowess, a 500TB, half a petabyte, flash system was built at its Almaden research centre using the FlashSystem 820. Here's the video of the demo:
And here's an IBM blog describing the demo process.
IBM says its FlashSystem line joins the company's growing stable of all-flash and hybrid (disk/flash) products which include the Storwize V7000, DS8870 and XIV arrays.
A deal has been announced between IBM and Sprint Nexel involving the installation of nine flash storage systems in Sprint's data centre, amounting to 150TB of flash capacity. Flash is used to accelerate Sprint Nexel's phone activation application and the company is expanding its use of the technology to other parts of the data centre. Sprint has a strategy to move its most active data to all-flash storage systems.
At any rate, IBM is sure to recoup its flash investment.
We can imagine IBM reps will be firing a "move primary transaction data into flash" barrage at their customers. They'll bring them into the competency centres to show them how to do it and encourage their efforts. Meanwhile IBM developers will be altering its transaction-handling middleware to make better use of flash - by storing log data in it for example.
The hardware that Big Blue folks will be set to work upon flashifying IBM's servers by adding in PCIe flash cards and modifying the system software to use it to best effect, and also, of course, producing an all-flash array to prevent competitors muscling in on IBM's customer base with their own hot little flash boxes.
This is a multi-year effort and the rebranding of TMS to FlashSystems and the setting up of competency centres is only the start. IBM has joined the flash battle with serious intent and its flash-focused rivals are sure to be feeling the heat. ®
Sponsored: How to get more from MicroStrategy by optimising your data stack