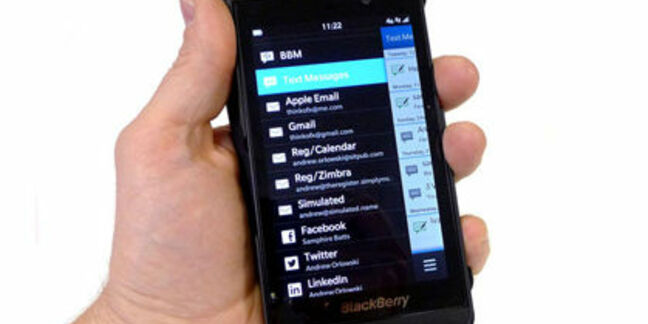 BlackBerry president and CEO Thorsten Heins has fired back at an article in The Wall Street Journal which cites a report that returns of the Z10 are outnumbering sales – and that report was just the latest bad news for the beleaguered smartphone manufacturer.
"Return rate statistics show that we are at or below our forecasts and right in line with the industry," Heins insisted in a company statement on Friday. "To suggest otherwise is either a gross misreading of the data or a willful manipulation. Such a conclusion is absolutely without basis and BlackBerry will not leave it unchallenged."
That challenge, BlackBerry says, will include requesting that the US Securities and Exchange Commission and Ontario Securities Commission to review what the company characterizes as a "false and misleading report."
The report in question was issued by a Detwiler Fenton wireless analyst, whom the WSJ quotes as saying, "We believe key retail partners have seen a significant increase in Z10 returns to the point where, in several cases, returns are now exceeding sales, a phenomenon we have never seen before."
Not so, says Heins. "Sales of the BlackBerry Z10 are meeting expectations," he writes, "and the data we have collected from our retail and carrier partners demonstrates that customers are satisfied with their devices."
The BlackBerry statement also notes that Detwiler Fenton has both refused to provide them with a copy of the report itself and to explain the report's methodology, "even after the Company said the firm's findings were 'absolutely false'."
BlackBerry's chief lawman Steve Zipperstein is as ticked-off as Heins. "Everyone is entitled to their opinion about the merits of the many competing products in the smartphone industry," he wrote, "but when false statements of material fact are deliberately purveyed for the purpose of influencing the markets a red line has been crossed."
The defensiveness displayed by Heins and Zipperstein is understandable: recent news hasn't been good for BlackBerry. As The Reg reported earlier on Friday, an analyst for the equity-research firm MKM Partners reiterated his Sell rating for BlackBerry (and Nokia) on Tuesday, saying that 82.6 per cent of 1,500 surveyed US consumers didn't know that BlackBerry 10 had been launched in Canada and Europe.
"The ineffectiveness of BlackBerry's marketing plan is highlighted by the 63 per cent of respondents who were completely unsure as to when the BB10 would be released in the US," he wrote.
In addition, on Thursday AllThingsD cited a smallish survey by the financial-services firm Raymond James in which 71.4 per cent of the 250 consumers surveyed agreed with the statement, "Nothing would get me to buy a Blackberry [sic]." When the same statement referred to an iPhone, the number was 19.7 per cent, and an Android phone, 31.3 per cent.
As the WSJ summarized its opinion, "these early indicators do not bode well" for the BlackBerry Z10. ®
Sponsored: Webcast: Simplify data protection on AWS