Free online Uni courses pressure vendors to drop training costs
Cisco man says certification courses and content may be gratis, exams won't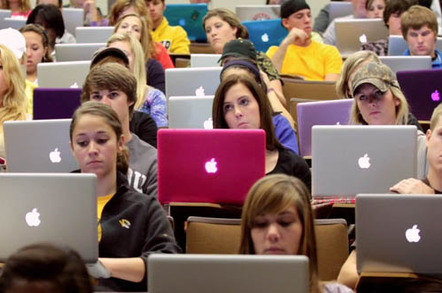 The popularity of massive online open courses (MOOCs) could significantly disrupt vendors' certification models, to the point at which it is no longer possible to charge for education.
Several speakers at an event titled "The Future of Higher Education and Skills Training" in Sydney, Australia, today, pointed to the extraordinary uptake of MOOCs, online courses offered by recognised universities, generally at no cost, and with rigour that all-but-matches that of conventional classes.
One speaker, Cisco's executive director for AsiaPac Andrew Thomson (who in a past career was Canada's Minister for Learning and Minister for Information Technology), suggested that one effect of MOOC is to commoditise content. Vendor content won't be exempt from that trend.
"If the content becomes free what are you paying for", Thomson asked. "You're paying for the certification. That's where the value lies."
"I think that is possible the business model could be that the content could become free, but you pay for the credential."
"It is radical and a disruption but potentially one of the models that emerges."
The model is disruptive because many enterprise vendors charge for access to their training content and/or run training courses. The business units that do so are substantial and almost-always profitable.
Also at the event, Peter Acheson, CEO of Australian IT recruiter Peoplebank, outlined previous efforts to offer vendor-centric education to contractors on the company's books as a value-added service. Vendors' responses to that idea was to insist on a license for each student, which killed the idea. MOOCs, Acheson said, make the idea viable again.
If others think in similar ways to Acheson and vendors find the rise of MOOCs means it becomes harder for them to find paying customers for their content, they'll almost certainly try to recoup the cash in other ways. Students already pay for exams, making them one possible source of revenue. More frequent certification renewals might also be in the agenda.
That MOOCs put pressure on all educators is hard to deny. Anant Agarwal, a professor of electrical engineering and computer science at the Massachusetts Institute of Technology, and founder of edX, MIT's MOOC effort, told the event the online courses are even starting to be recognised as worthy of credit that counts towards "official" degrees.
edX will give the push for such recognition, and the incentive for vendors to create free courses, a big boost in June when it open sources the platform it uses to deliver its courses. That platform is mature enough to already handle the 155,000* students that enrolled in MIT's Circuits and Electronics course and to offer them an online lab in which students could construct virtual circuits. Agarwal said the course was "as rigorous" as that offered by conventional MIT courses.
The edX platform will, in the next release, incorporate elements of rival free online educator Coursera's platform. Stanford-centric Coursera agreed last week to join forces with edX to create what Agarwal said will become "the Linux for learning". The new release will also include a free course to teach educators how to construct and deliver courses using the platform.
Whether the likes of Cisco, Microsoft and VMware, each of which teams with tertiary education institutions to deliver their content, will access that course remains to be seen,but you get the feeling they ignore it at their peril. ®
* While 154,763 students signed up for the first Circuits and Electronics course at MITx, a number Agarwal proudly pointed out is more than all of MIT's alumni for the last 100 years, just 26,349 took on the course's first problem set. 10,547 made it to the mid-term exam and 9,318 passed that test. 8,240 took the final exam, 7,157 of whom won the certificate on offer. We mention those numbers to point out that MOOCs headline numbers look great. The outcomes may be a little less so.