US jobs grew at slower pace in March, says gov
IT sector flatlines - who's got the defibrillator?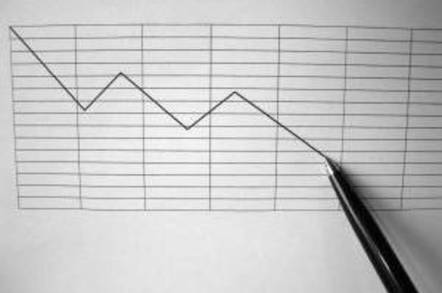 US employers worried about the sequester's effect on government spending didn't hire as many new workers in March as economists expected. Changes in the all-important IT sector were much less pronounced than in other industries, though.
While the unemployment rate decreased it did so for the wrong reasons, with an increase of the number of people who left the labor pool and who are therefore not part of the official unemployment rate calculation.
According to the March jobs report, issued this morning by the US Department of Labor's Bureau of Labor Statistics (BLS) (PDF, 38 pages), the US economy created only 88,000 jobs outside of farms, which are tracked separately because of their seasonal work schedules.
While March fell short of expectations, it looks like January and February did better than expected. As it often does, the BLS revised its job creation numbers for the prior two months, saying it now believes that the US economy created 148,000 jobs in January (up from 119,000) and had a net new 268,000 workers added in February (up from the 236,000 it projected last month).
The healthcare, construction, professional, and business services sectors of the economy continued to be the big engines of job creation in March. Healthcare firms added 23,000 workers last month, about the average monthly rate for the past year. This reflects the aging American population and, frankly, the poor health of many Americans thanks to their poor diets and lack of exercise.
The construction industry, which was hit particularly hard by the Great Crash of 2007, added 18,000 workers in March and has grown by 169,000 workers since September, which is when the economic recovery seems to have begun in this industry.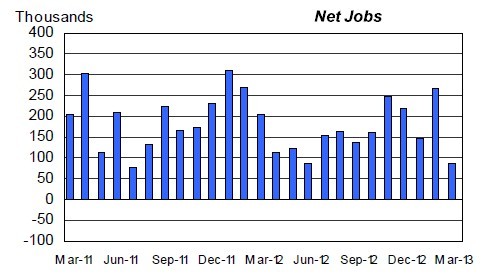 Non-agricultural private sector job creation slowed in March.
Thanks to corporate and personal tax seasons, which end on March 15 and April 15, respectively, in the United States, employment in the professional and business services sector rose by 51,000 people last month.
As tight as the economy is in the US, people are still spending their dough in restaurants and bars. Companies engaged in food services and running "drinking places", as the government puts it, added 13,000 workers in March. Thank the March Madness college basketball tournament for this bump.
It wasn't all good news from the so-called Establishment Survey data (correctly known as the Current Employment Statistics), which is the information that the BLS gathers from employers to build its model of employment by industry each month.
Retailers shed 24,000 jobs after propping employment up past the holiday season, and the US Postal Service, which had a $15.9bn budget gap in fiscal 2012 and which tried to stop Saturday mail delivery until Congress stepped in, cut 12,000 workers in March.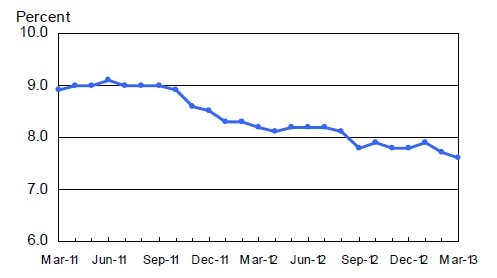 The unemployment rate has gone down again in March in the US
The unemployment rate is calculated by the BLS each month based on a survey of American households, and the BLS reckons there are 11.7 million people who are looking for work but can't find it, which is the official definition of being unemployed. (If you aren't looking for work and are not working, you are, technically speaking, not unemployed. You don't count. Yes, this is nonsense.)
When you do the math it gets a bit meta. Because some people stopped looking for work, the official unemployment rate fell by one-tenth of a point, to 7.6 per cent. If the economy picks up steam, more people will re-enter the labor pool and try to find jobs, and therefore the unemployment rate could actually climb.
The IT(ish) drill-down
The BLS doesn't track jobs by type, but rather by industry, and therefore we can't really get a sense of how the IT sector is doing in terms of job creation and destruction. But we can extract some industry-specific data and use it as a proxy of sorts for how the IT sector is doing.
In the manufacturing sector, computer and electronic product makers employ over 1.08 million workers. Computer and peripherals makers in the US had 159,300 workers as March came to a close, up by a mere 300. Not even noise in the data.
Semiconductor and electronic component makers shed 600 workers, decreasing to a total of 379,600 workers last month, while communications equipment makers added 500 workers for a total of 108,100.
In the information sector, which includes publishing, hosting, data processing and telecommunications businesses, employment was more or less flat last month, with some wiggling here and there.
Telecom companies had 858,900 workers, up by 1,600, while data processing and hosting companies had 251,600 workers - an increase of 500 people since February.
Within the professional and business services sector, companies engaged in computer systems design cut 3,300 workers, with 1.67 million workers still drawing paychecks for this work.
Management and technical consulting firms, which often have an IT component, added 6,600 workers to a pool of 1.16 million workers in March. ®