Why do they even call it a backup appliance? Just call it an EMC
It's a one horse race in the kingdom of the blind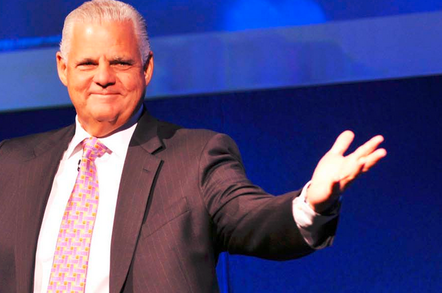 In the purpose-built backup appliance market, IDC numbers show EMC reigning supreme in revenue share terms while everybody else basically sucks. Only one rival, Symantec, has a greater than 10 per cent share.
Here are the bald revenue share per cent numbers for the fourth 2012 quarter as tracked by IDC's number-crunchers:
- EMC with 66.5 percent
- Symantec with 11.8 per cent
- IBM with 8.4 per cent
- HP with 3.2 per cent
- Quantum with 2.4 per cent
- "Others" with 7.7 per cent.
The Register's mad graphers couldn't resist charting up the trends over the past few quarters and here's the result: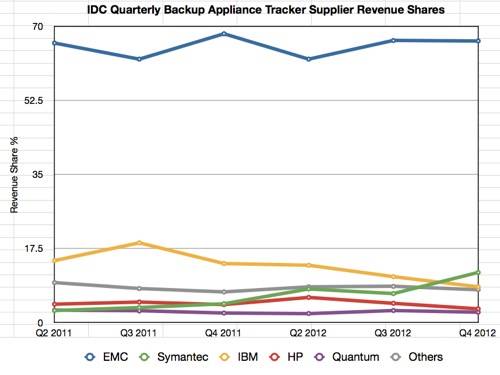 To see a bigger and bolder version click on the chart.
Cast your eyers to the bottom of the chart and see how Symantec's share has been rising and IBM's falling, with Symantec's trend-line crossing IBM this quarter. HP and Quantum seem permanently down in the dumps.
Astute chart viewers will note that there is no first quarter 2012 set of numbers. IDC didn't publish any for that quarter so we just cut that column out of our spreadsheet from which the graph is produced.
We think that the purpose-built backup appliance market is effectively an EMC monopoly with its Avamar and Data Domain product technologies. Having executed a backup appliance landgrab EMC isn't going to get displaced by any other supplier unless their wonderful product is much better than Data Domain and can ingest Data Domain-stored data; fat chance. Growth through market expansion by replacing tape backup will be, our highly-tuned abdominal sensing units tell us, miniscule.
In this market EMC rules and no-one else can do a thing about it. ®