'Super' market tops $11.1bn, propped up by massive sales
But can high-end HPC keep growing like this?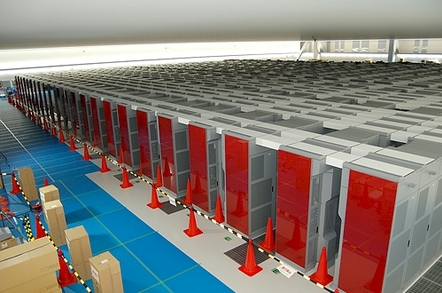 The high-performance computing market did well in 2012, rising 7.7 percent to $11.1bn and by far outpacing the sluggish growth in the systems space overall. But the market is top-heavy and dominated by a relative handful of supercomputer shipments, and sales of divisional, departmental, and workgroup systems all shrank last year.
The 7.7 per cent revenue bump was better than IDC was anticipating in its forecast from late in 2012, when it pegged growth at something more like 7.1 per cent. A number of very large machines went into supercomputer sites just as the year was coming to a close, and it was not obvious that they would all gain acceptance, so the fact that IDC could even get the numbers close is a bit of a wonder. (Or, if you are a cynic, a lucky coincidence.) Even though revenues were up, HPC system shipments – counting machines and clusters as units, not counting individual nodes – fell by 6.8 per cent.
What El Reg wants to know, and what IDC did not discuss in its recent HPC report, is whether or not the HPC systems market as a whole is profitable. It may not be a particularly profitable business in and of itself, but could be quite profitable when you add in software and services.
Large capability–class machines are expensive, but they do not necessarily make money unless, like Cray, you can get the US Defense Advanced Research Projects Agency to fund the development of your latest XC30 system and "Aries" interconnect and then sell it off to Intel for $140m. Neat trick, that: the US taxpayer foots the bill, and Cray gets to profit twice by selling Aries machines for three or four years based on it, and then by selling the technology off.
In general, these large projects have funded forward-looking interconnection, processor, and system packaging technologies that eventually trickle down into commercial systems. And the broader adoption of these technologies later in smaller HPC systems would help cover their cost of development.
IBM could, for example, afford to develop Power processors for its broader server line in part because it knew the US government was going to buy some very large machines based on them. But that linkage has more or less been broken with the monster Power 775 machines that were supposed to be the "Blue Waters" system at the University of Illinois, and with there being no indication from IBM as to what lies beyond the "Sequoia" BlueGene/Q machine.
But, sometimes you need to make money while you can and let tomorrow worry about itself – and the supercomputer segment of the HPC systems racket, where machines cost in excess of $500,000, did surprisingly well, with revenues up 29.3 per cent to $5.6bn in 2012. That's a tad bit more than half of all revenues in the HPC systems space.
The K supercomputer in Japan, which was built by Fujitsu using its Sparc64-VIIIfx processor and Tofu interconnect, accounted for more than $500m of revenues last year. Big boxes from IBM, HP, and Cray helped push up the supercomputer segment last year, as well.
"2012 was an exceptionally strong revenue year for the high-end supercomputers segment, which grew 29.3 per cent year over year," said Steve Conway, research vice president for technical computing at IDC, in a statement . "IDC does not expect the high end of the market to continue growing at a pace this swift."
Divisional HPC system sales (machines that cost between $250,000 and $499,000) brought in $1.2bn last year, down 2.2 per cent, and while departmental HPC systems (costing between $100,000 and $250,000) had a boom year in 2011 with $3.5bn in sales, their sales fell 14 per cent in 2012 to $3bn. Workgroup HPC system sales – machines that cost less than $100,000 – rose by a mere 1.2 per cent to $1.24bn in 2012.
IDC reckons that the HPC systems market is going to continue to grow at a steady clip between 2011 and 2016, with its forecast for that period showing a compound annual growth rate of 7.3 per cent, hitting in excess of $14bn in sales by 2016.
It will be interesting to see what the projections look like for 2018 through 2022, when exascale-class machines are widely expected. Who will make them, what will they cost, and who will pay for them? No one seems to know the answers to any of those questions quite yet. ®