Apple denied trademark protection for 'iPad mini'
Kindly – if dim – reviewer offers advice on application revision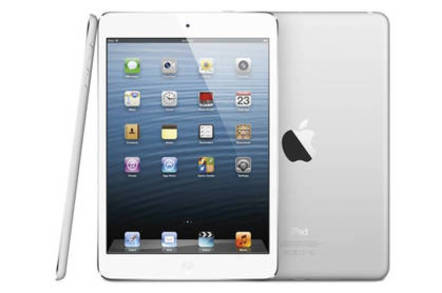 The US Patent and Trademark Office has denied Apple's request to trademark the term "iPad mini" – but there's good reason to assume that Cupertino will overturn the decision on appeal.
The central reason for the denial is rather straightforward: that "mini" is merely identifies the original iPad's little brother as being, well, a "mini" version of the ubiquitous fondleslab.
"Registration is refused because the applied-for mark merely describes a feature or characteristic of applicant's goods," examining attorney Lee-Anne Berns states in her refusal letter. "A mark is merely descriptive if it describes an ingredient, quality, characteristic, function, feature,purpose, or use of an applicant's goods and/or services."
That argument could be understood as meaning that Berns reads "mini" as simply a descriptive adjective referring to "iPad", and that she doesn't regard "iPad mini" as a coherent trademark to be taken whole.
Apple's trademark application, filed on November 15, 2012, didn't persuade Berns that was the case, but Cupertino's legal team has six months to appeal by "submitting evidence and arguments in support of registration."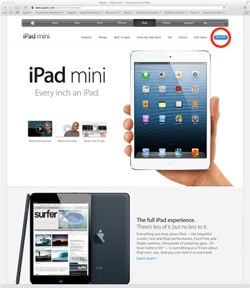 According to the examining attorney, it's not clear
that the circled "Buy Now" button would lead to an
iPad mini purchase (click to enlarge)
Curiously, Berns also seems unconvinced that the term "iPad" itself is more than merely descriptive, arguing that "The term 'pad' refers to a 'pad computer' or 'internet pad device', terms used synonymously to refer to tablet computers," and that "The term 'IPAD' is descriptive when applied to applicant's goods because the prefix 'I' denotes 'internet'."
Apple, however, does hold a trademark on the term "iPad", having purchased it from Fujitsu in March 2010 for an undisclosed sum. Apple has also trademarked that term in a number of different countries, and settled a trademark dispute last July over the name with the Chinese company Proview for a cool $60m.
One last bit of head-scratching oddness in the USPTO ruling. As they normally do in their tradmark filings, Cupertino's legal folks included a screenshot of the iPad mini's Apple.com product page as a "specimen" of the company's use of the term to describe its shrunken tablet. Berns was not satisfied.
"The mark and picture of the goods on the specimen are not sufficiently proximate to the 'buy now' tab," she wrote, "and it is thus unclear what consumers would be purchasing by clicking on this tab," Berns writes. "Advertising material, which merely tells prospective purchasers about the goods or promotes the sale of the goods, is generally not acceptable as a specimen to show trademark use in connection with goods."
That purchase seems rather clear to us here at The Reg – but we're not USPTO examining attorneys well-versed in the how-many-trademarks-can-dance-on-the-head-of-a-pin intricacies of patent and trademark law.
Possibly Berns is being overly picky; possibly Apple's trademark lawyers were simply a wee bit lax in their argument. We're willing to bet, however, that Apple will win its USPTO appeal, and that this entire contretemps will turn out to have been a mini tempest in a mini teapot.
All Apple has to do to win an appeal, Berns writes, is to "submit a disclaimer in the following standardized format: No claim is made to the exclusive right to use 'MINI' apart from the mark as shown." Shouldn't be hard. ®
Boonote
After he leaves Vulture Annex this evening, your Reg reporter will hop in his Mini Cooper, drive to a local mini-mart after looking up its address using Opera Mini, where he'll pick up a bag of Reese's Minis, some Mini Ritz crackers, and a box of Frosted Mini-Wheats, then go home and watch the video antics of Dr. Evil and his sidekick Mini Me, which he has stored on a Drobo Mini portable storage array attached to his Mac mini, with sound provided by X-mini Happy Capsule Speakers.