Boffins probe into moons – and associated rings – 'beyond snow line'
They were here when this was all fields – of protonebula
Saturn's rings have been knocking around the galaxy since around the time our Solar System was born, NASA's Cassini spacecraft has shown. Though not in ring form the whole time, obviously.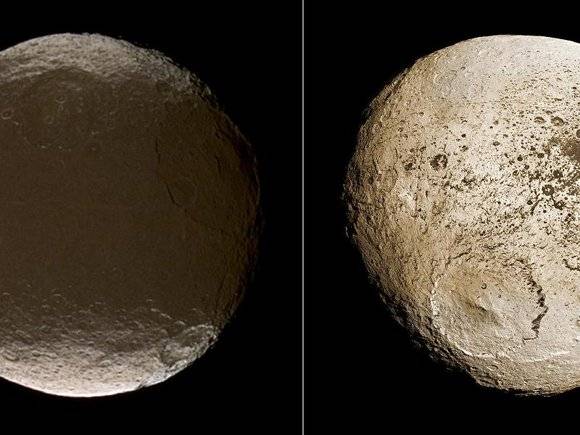 The extreme brightness dichotomy of Saturn moon Iapetus. Credit: NASA/JPL-Caltech/Space Science Institute
The moons and rings around the planet date back more than four billion years, from around the time that the planetary bodies in the system started to form out of the protoplanetary nebula - the cloud of material orbiting the Sun after its ignition as a star.
Astroboffins analysed data from the Cassini spacecraft's visual and infrared mapping spectrometer (VIMS) and found that the moon and rings' colours, caused by recent "pollution" were only skin-deep. Underneath, according to VIMS' infrared range, lies abundant water ice, too much to have been deposited by comets or other recent events, so most probably around since the birth of the Solar System.
"Studying the Saturnian system helps us understand the chemical and physical evolution of our entire solar system," said lead author Gianrico Filacchione, a Cassini scientist based at Italy's National Institute for Astrophysics.
"We know now that understanding this evolution requires not just studying a single moon or ring, but piecing together the relationships intertwining these bodies."
Saturn sits out beyond the "snow line", where the environment preserves water ice. Inside the snow line, the Sun can dissipate ices and other volatiles more easily.
The colour on the ring particles and moons comes from two sources. Inner rings and moons are whitewashed by water-ice spray from the geyser moon Enceladus, while further out, the moons are redder and shed reddish dust that colours other nearby things.
Red has also been introduced by a rain of meteoroids striking the main ring system. Boffins reckon the reddish colour could be oxidised iron or polycyclic aromatic hydrocarbons - the progenitors of more complex organic molecules.
The most surprising discovery was that the potato-shaped moon Prometheus also looks reddish, despite the fact that other moons in the area are white.
"The similar reddish tint suggests that Prometheus is constructed from material in Saturn's rings," said co-author Bonnie Buratti, a VIMS team member based at NASA's Jet Propulsion Laboratory.
"Scientists had been wondering whether ring particles could have stuck together to form moons, since the dominant theory was that the rings basically came from satellites being broken up. The colouring gives us some solid proof that it can work the other way around, too." ®
Sponsored: Detecting cyber attacks as a small to medium business