Bulging Kelway: Too big to get out of the obvious exits
CEO: Just big-boned, Equanet gobble was nutritionally sound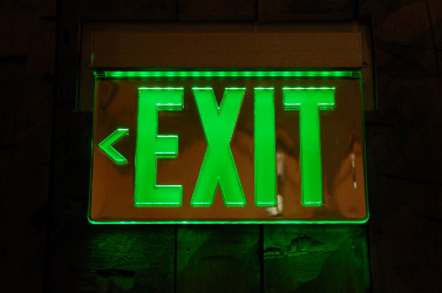 Phil Doye acknowledges that 21 years after setting up reseller Kelway, he still doesn't have a key for the exit.
The London-based firm is moving to rapidly integrate new buy Equanet, the once mighty IT dealer that was taken over by Dixons in 2007 and subsequently pulled apart and bent out of shape.
The transaction is expected to close on 2 April less than a month after the acquisition was announced.
"The immediate priority is to integrate Equanet," CEO Doye tells us by email.
"We are required to move out of [Equanet's] Hemel Hempstead office on completion and have up to six months to relocate [Equanet's] Bury operations".
Equanet was not lifted wholesale by Kelway - it swallowed only the corporate and public sector biz which also included the Microwarehouse brand.
The trade and SoHo parts remain under Dixons ownership, serving as the last remnants of the retail giant's once glorious ambition to become a £1bn IT reselling giant in the UK.
But what does the Equanet buy add to Kelway?
A bigger footprint in the UK that "augments" the existing operation in Runcorn, says Doye, and "coverage" in SMB where "our key vendors see growth and where historically we have been underrepresented".
He says "people" represent the "biggest investment" it is making as a business but ironically refuses to comment on the Equanet heads transferring to his firm - indicating job cuts are likely.
Doye says the deal gives Kelway a "complementary" Equanet-owned e-commerce platform, increased "penetration" of the public sector, and further Enterprise and Select Agreement opportunities courtesy of the Microsoft LAR badge.
He claims the buy also makes his business the "UK's largest B2B Apple partner", which in the era of the slablet is not a bad accolade to boast.
But all this sounds like more of the same - very product centric.
Not entirely so, says Doye - Mobile Device Management and BYOD services "increase our existing portfolio in the area of End User Computing".
The Equanet buy represents the seventh deal Kelway has struck since 2007 when it brought Elcom out of administration, and takes the run rate business close to the £500m mark, say management.
And this is part of the problem - Kelway is growing to a size that puts it out of the reach of all but the biggest buyers in the channel, the likes of SCC and Computacenter. Even for those firms it would be a big integration task.
This is the same problem that faced fallen integrator 2e2 - management and the VCs wanted to sell up but the asking price of £350m was the stumbling block.
Unlike 2e2 Kelway does not sitatop a rumbling, possibly volcanic £270m debt mountain and so can be more realistic in its valuation: and still maybe take leave with a nice nest egg.
Doye says from the comfort of his keyboard:
"Our strategy is creating a business that is relevant to our clients' changing needs and a great place to work.
"Of course we are driven by financial performance as that is the ultimate benchmark of success and is what allows us to continue to invest and grow. We are not looking to sell the business but I agree the larger we grow the smaller the list of potential acquirers that are already channel players."
Kelway has been in a sales process before on several occasions, sources murmur. This is the best way to find out what rivals or businesses in adjacent markets are prepared to pay, or not as the case may be.
Doye's firm is backed by private equity house Core Capital which coughed £5.2m for a 25 per cent stake in 2006 through a venture capital trust.
The investment was transferred 18 months ago to a new limited partnership fund, so the VC's exit timeframe may not be immediate, Doye reminds us.
Sources speculate Kelway may try to grow to £1bn and then float, others say a buyer will need to be found among adjacent sectors - the telco giants for example.
Both Vodafone and C&W Worldwide have sniffed around 2e2's backdoor in the past - as they look to grow data services. 2e2 was perceived as a sexy business, with a broad portfolio of ICT services.
Kelway is seen as a chunky hardware dealer and its bottom line does nothing to upend this perception, with the holding company making an operating profit of £9.6m on sales of £350m in fiscal 2012.
Doye is at pains to point out the investments in its technical team, the 180 rack capacity at a new data centre in Redhill to run its cloud platform and a new service operation centre in Peterborough.
The buy and build model has taken its fair share of knocks in recent years - the model unravelled for the likes of Azzurri, Redstone and Calyx, all of which beat a retreat back to their core businesses.
The latest, and perhaps most costly example of 'When Company Roll Ups Go Bad' is 2e2, which went down owing millions to trade creditors.
Doye says comparisons with 2e2 are not relevant, and in the main he is right.
"We are a private company with strong financials and supportive shareholders. We have a proven track record in growing organic revenues and so are under no pressure to do deals simply to add revenue however where we see value we will act".
In the fiscal 12 numbers, Kelway Holdings saw net debt rise to £21.5m up from £8.4m. Much of this pertained to a net cash outflow from operating activities of £4.3m, higher interest charges, cap-ex, corporation tax and loan notes.
Doye says in the Equanet deal, as with its ISC buy, "we have worked with LLoyds Bank to ensure we have the right mix of lending to support our existing cash flow requirements and also any short term impact of acquisition".
Kelway has a complex equity structure of A1, A2, B, C and D classes or ordinary shares but this is the result of private equity investment and employee share incentives since it starting rolling up businesses, the CEO says.
"Our banks, the credit insurers and our suppliers are fully supportive of our business model. It is frustrating when mis-informed commentators attempt to draw a comparison between ourselves and those organisations that are highly leveraged on the back of a series of multiple acquisitions often using high interest vehicles such as mezzanine finance," says Doye.
He has been more canny in negotiations giving business owners of firms he has bought a mix of cash and shares in privately-owned Kelway, which they are then powerless to sell and or prevent dilution.
Equanet owners realised their exit strategy by selling up to Dixons, and the subsequent tinkering by the new parent paved the way for Kelway, and indeed Softcat, to become forces in mid-market IT reselling.
But in an ironic twist, the acquisition of Equanet means that the exit strategy for Kelway just became a little less obvious. ®
Sponsored: Detecting cyber attacks as a small to medium business