Hoboken CTO admits bugging boss for political leverage
Faction-fighting among Bridge and Tunnelers
The IT boss for the city of Hoboken, New Jersey – one of New York's closest and most underrated neighbors – is facing 15 years in the Big House after pleading guilty to harvesting the emails of the mayor and her staff to inform their political rivals.
In 2009, Peter J. Cammarano III was elected major of Hoboken, beating his opponent Dawn Zimmer by just 161 votes. Just 22 days after being sworn in he was arrested by the FBI for extorting $25,000 in bribes (which later netted him a year in prison), and Zimmer was appointed to the role. This didn't sit well with Zimmer's opponents in City Hall.
"The investigation has revealed that many of the elected and appointed officials in the City retain strong ties with the previous administration and are otherwise politically opposed to the Mayor on a variety of municipal issues, large and small," according to court documents.
"These officials included several members of the City Council," the docs contend, "as well as high-ranking employees of different City municipal agencies, such as the Public Safety department, the Fire Department, and the OEM."
Now you might be thinking this is another case of Republicans and Democrats taking a partisan position, but in fact both Cammarano and Zimmer are from the Democratic Party caucus – but Hoboken is one of those towns where they don't bother to count Democratic votes over Republicans, they just weigh them, and politics is a cut-and-thrust business.
Patrick Ricciardi, who joined the city's IT department in 1992 and rose to oversee the entire City network, admitted to FBI agents that he had joined the opposition cabal and set up a special archive that contained copies of all incoming and outgoing emails for Major Zimmer and her key staff.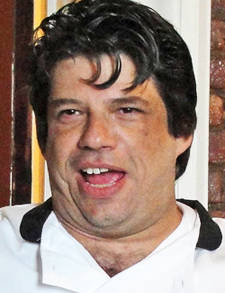 Jersey represent! (credit: Claire Moses)
Network analysis showed that the emails were received by fire chief Richard Blohm and former public safety director Angel Alicea, according to testimony from former business administrator Arch Liston. His suspicions were aroused when he started to get Open Public Record Act requests for government documents he'd only been emailed the day before, Hoboken Patch reports.
Suspicions were further aroused in May 2011 when one of Zimmer's staffers found a paper copy of a private email, and informed the mayor. She called in an independent security auditor to check out the city's systems.
The scam was uncovered, in part, because Ricciardi wasn't particularly smart about his spying – he put the archive on his personal PC rather than bury it in a server. His assistant Jonathon Cummins confessed in October 2011 that he had been the one who set up the archive, but recanted a week later when Ricciardi admitted his guilt to FBI agents in an interview at his home.
Ricciardi, 46, pleaded guilty to accessing a computer without authorization, interception of wire and electronic communications, and disclosure of intercepted wire and electronic communications, each of which carries a five-year maximum term. He will be sentenced in July. ®
Bootnote
The New Jersey city of Hoboken begins less than a mile from the seething heart of New York's Manhattan Island, separated only by a narrow stretch (and occasional emergency landing spot) of the Hudson River.
New Yorkers scornfully refer to people who live there as "bridge and tunnelers", on the basis of how they get home at night. The fact these same people also exchange a short commute for paying almost-sane property prices is seldom brought into the conversation.
But those visiting the Big Apple should take a trip across the river and check out this underrated gem. Hoboken has some beautiful spots, hosts the Stevens Institute of Technology (one of the New World's oldest science and engineering institutions), and is also the birthplace of modern baseball after the first official game in 1846 when the New York Nines nailed the Knickerbocker Club 23 to 1 in four innings.
In this hack's experience Hoboken is to New York as Canada is to America: all of the benefits of modern civilization with none of the attitude – City Hall politics notwithstanding.
Sponsored: Detecting cyber attacks as a small to medium business