Whatever happened to telepresence? From $2.5m deals to free iPad apps
It's the tech that made Microsoft feel the love for open standards
Clouded vision?
The cure-all cloud looks to be the silver lining for Stone, enabling growth in this market as new service models are developed to meet a different kind of customer. He notes, "Recent announcements with AT&T, also BT and OBS (Orange Business Services) are critical for the future of the market, especially small-medium businesses.
"They aren't necessarily going to want to buy all the infrastructure and build it themselves – the MCUs etc. They'll be looking to pay per user per month from BT, OBS, AT&T and there are also other video providers emerging on a usage basis, so they can start getting access to it quickly and easily."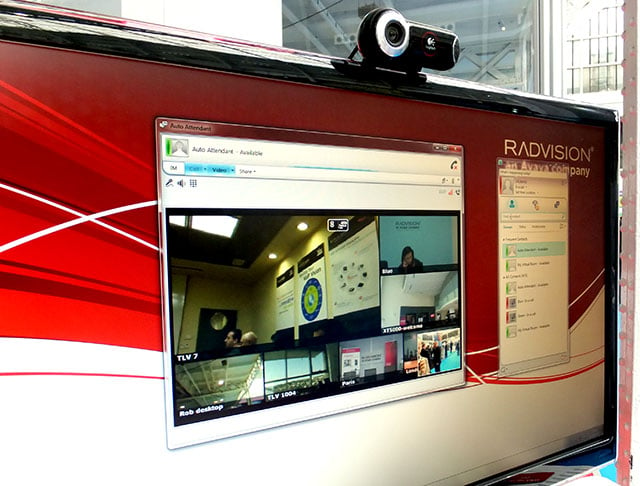 Radvision, now part of Avaya, aims to make the telepresence experience as seamless as possible. The company has interoperability well-covered, as it has been a major video port hardware vendor supplying OEM boxes for significant players in the industry
Polycom doesn't wander lonely in the cloud either. Andy Nolan, Radvision's General Manager UK and Ireland, is keenly aware of the costs involved per video port and while lower resolution options can scale the pricing and increase port capacity accordingly, the cloud offers an alternative for companies that don't want to make compromises.
When it comes to the initial deployment he remarks, "How do you know how much capacity you'll need as you haven't rolled out video yet? You don't know how many calls those 30,000 people are going to make. You have to make a guess. So that's where the cloud approach has a role to play. People can deploy this stuff initially and use service providers to overflow and expand the capacity. And that just becomes a random usage model.
"They can do it as a PAYG, they can subscribe to a capacity they've got reserved for them, or like your mobile phone contract and have say 1000 video minutes a month and a set price to use it. You could have an unlimited package – that's what this has enabled some of our service provider partners to offer, as the technology lends itself very nicely to that."

Radvision's Scopia Elite 6000 MCU handles HD 1080p/60fps, and supports H.264 (SVC) and H.264 High Profile
Certainly, teaming up with video conferencing tech companies appears to be the next big thing, no matter where they are based. Deutsche Telekom has partnered with US-based Blue Jeans Network and provides VideoMeet for UK customers running just about any platform. Similarly, Imago and Vidyo launched VaaS-t (Video as a Service - trade only) – a video connection with unlimited guest invitations for around £40 per month. As for the users Vickerage says, "I've yet to see people make calls between each other on mobile devices. It tends to be calls between mobile devices and meeting rooms. That's where the sweet spot is right now. So people can join from home, a remote office or a hotel and get more or less the same experience they can have if they were there."
Virtual functions
Another approach that is gaining acceptance to deliver capacity is hardware virtualisation, which has other advantages in terms of administration. LifeSize Sales Engineer Terry French describes the changes and the opportunities this delivers.
"If you look at traditional videoconferencing hardware, it's typically a tin box taking up space in a data centre – separately powered, provisioned, administered – typically a fixed capacity of some form. It might be a card box – fill that up and get another and so on. What we've done is taken that whole capacity and put that in a software virtualised appliance which we call the UVC platform. This is a single point of administration for all those video infrastructure devices."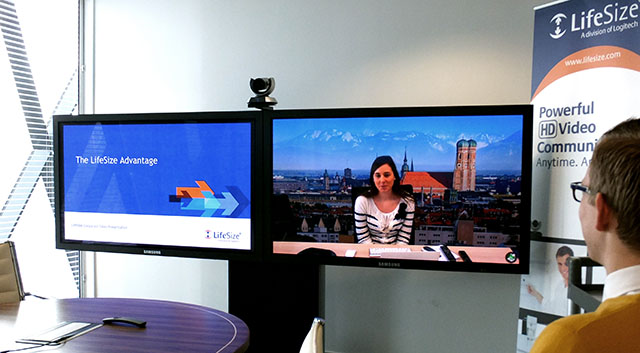 Now owned by Logitech, LifeSize offers its Icon series for fuss-free HD video conferencing with multiple users
Again, this is another buy what you need model and build your capacity as your video adoption grows. It's attractive to SMBs too, as there's no longer the need to invest in say, 16 ports of bridging any more, when they might only need a couple to begin with. As French is keen to highlight, "There's no MPLS here, no smoke and mirrors, just sitting on the open Internet." And up to 1080p/60. Needless to say, LifeSize is another SVC adopter, having begun with AVC in its early days along with native support for Microsoft's RTVideo – the codec utilised in Office Communications Server 2007. It's tempting to focus on Lync 2013 at this point but while we're on the subject of bridging, it's worth looking at Vidyo's approach, which dispenses with the traditional MCU (or bridge) and its associated costs. Vidyo's Fraser Dean takes up the story.
"If you're on a three way call, an MCU has to take in and decode all three streams and create one image that comprises of all three, you recode that and send it out to each of the participants. That's why you need the hardware oomph of those DSPs, yet it means the quality degrades and you add latency. As video becomes 'viral' and more and more users start accessing at their desktops, the problem is, can you afford to keep rolling out all of those expensive MCU ports to support all these desktop users? The answer is no, unless you have a software approach. So the equivalent component from Vidyo to an MCU is a VidyoRouter.
What we do with a video router is an application layer switch – a software switch. If we're on a three-way call, all that router is doing is receiving those video streams and then working out how much and how many of those video streams to pass on. It will do that based on the network conditions and the PC or device performance, and then scale how much data is sent. And that's what we refer to as Adaptive Video Layering (AVL). So we've got H.264 SVC, which is the enabler, but how we implement and distribute multiple video feeds is through our AVL technology."