World's largest solar collection plant opened in Abu Dhabi
100MW system testing commercial viability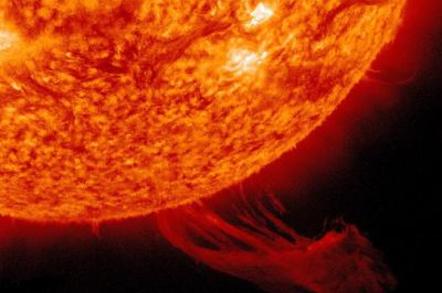 Shams 1, the 100MW solar collector plant that's a cooperative venture between energy investor Masdar, French oil firm Total, Abengoa Solar and the United Arab Emirates (UAE), has officially opened for business.
The 2.5 square kilometer Shams facility (named after the Arabic word for Sun) is technically the world's largest for the technology, which harvests its solar energy using 258,048 trough-shaped parabolic mirrors rather than photovoltaic cells. The mirrors focus light on a oil-filled pipe running through the center of the trough and heat it to 300 degrees Celsius.
That's good - but not good enough - and so the oil is heated another 200 degrees using a natural gas burner before being used to boil water for a steam turbine. As much of that water as possible is recondensed to green things up a bit more, although some of it is used to wash the mirrors at night – a light dusting of sand can cut the power generation of the system by 10 per cent and deserts aren't short of the stuff.
"Shams 1 is a strategic investment in our country's economic, social and environmental prosperity," said His Highness Sheikh Khalifa bin Zayed Al Nahyan, President of the UAE and ruler of the Emirate of Abu Dhabi.
"The domestic production of renewable energy extends the life of our country's valuable hydrocarbon resources and supports the growth of a promising new industry. The inauguration of Shams 1 is a major milestone in our country's economic diversification and a step toward long-term energy security."
He continued that the project had been useful in bringing solar skills and engineering into the region, which could prove valuable. Solar collection plants are one of the technologies being suggested for the EU-backed €400bn Desertec solar scheme that would try to turn the Sahara in North Africa into Europe's power station.
Shams isn't going to be the top dog in the solar collection world for long. There are bigger plants being built, not least in California and Spain's a world leader in the area. At least two more phases of expansion are also on the schedule for Shams, once they've shaken out the bugs with this site.
Solar collection has its supporters, but it's still a relatively young technology in comparison to photovoltaics. So if the plant can keep clean and productive then it could be a useful addition to solar power generation systems design going forward. The Shams team will deliver its first progress report at the MENASOL conference in May. ®
Sponsored: Becoming a Pragmatic Security Leader