Seagate's cloud backup baby gets software boost
EVault hopes version seven will tempt small biz users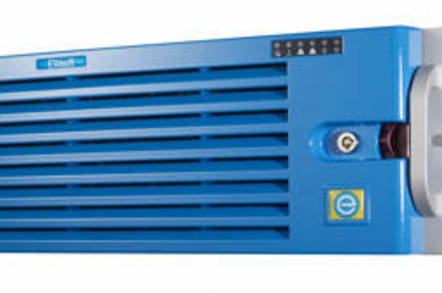 Seagate has given its backup-to-the-cloud EVault sub an appliance software boost, probably in a bid to lure in more of that small and medium biz customer goodness.
EVault appliances have now been updated with the latest v7.0 version of its software. according to the firm, this means faster backups, up to 100 per cent faster for VMware environments than EVault 6. It also means geographically distributed replicas in a private cloud, a service provider cloud, the EVault cloud - or in all three - to EVault's products.
EVault says its appliances have unlimited agent and application plug-in licensing included and now have a redesigned converged server-storage architecture, resulting in 30 per cent lower power consumption than before.
EVault Plug-n-Protect appliance with pretty blue bezel.
There are two appliances to choose from:
EVault Plug-n-Protect is an all-in-one backup and recovery appliance consisting of preconfigured hardware, storage, and software. It comes with 3TB, 6TB, or 12TB of usable capacity and customers have a standalone model for replication to the EVault Cloud or a paired set for private cloud replication. The machine scales up to 24TB.
EVault Express Recovery Appliance is effectively the previous model plus a cache to store backup data for faster, local recovery at LAN speed, with automatic replication to the EVault cloud. They come with 1TB, 3TB, or 6TB of usable capacity, and the product can be purchased SW-only and deployed as a virtualised storage appliance if you want to forego the pre-configuring.
Daniel Bankert, EVault's VP for server backup/archiving products, was bullish about the boxes: "[They] are changing the game by giving IT fast, local access to their data, plus offsite protection with a copy in the Cloud, at no-brainer prices."
Ah yes, pricing. The Plug-'n'-Protect 6TB model is on special offer until 29 March, 2013, with a manufacturer's suggested retail price of $19,995 including standard support and maintenance. ®