Feedly now home to 500,000 Reader refugees
Offers guide to being 'less pretty and more functional' just like Google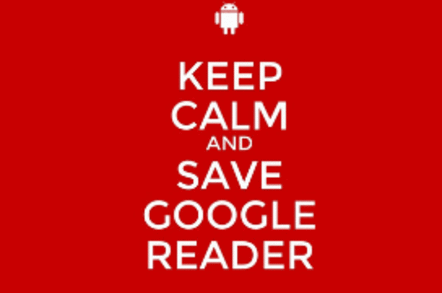 RSS reader Feedly says Google's decision to drop its Reader service saw 500,000 people migrate to its services in 48 hours.
In the inevitable blog post, Feedly says "To keep the service up, we 10x our bandwidth and added new servers", and has declared the following three items its "main priorities over the next 30 days":
To keep the service up
Listen to new users for suggestions and
Add features weekly.
Items one and three might, to some, appear mutually exclusive.
In acting on item two, Feedly hints Google Reader refugees don't always like Feedly's Flipbook-and-Pinterest-influenced look, as it has seen fit to offer a guide explaining "how to make Feedly less pretty and more functional" so it looks just like Reader.
Debate about Reader played out with decreased ferocity over the weekend, but there's still plenty of fun stuff going on, not least this "Google Graveyard" at which one can leave a flower for a dearly-missed Google product. Even pointless Wikipedia-wannabe Knol has a couple of thousand blooms rotting on its virtual grave.
It's surely only a matter of time before this whole incident sparks a raft of "What To Do When Your Mature Startup Experiences Sudden Hyper-Growth" and "When It's Okay For Your Startup To Turn Imitator " stories. Either that or "How Cloud Can Help You Take Advantage of Competitors' Stumbles." All of which are sorely needed. ®