Muso scrapbook Soundcloud gets $50m, corporatespeak makeover
Megabucks investment? Must talk shite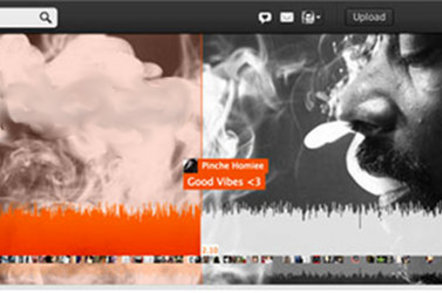 Comment Soundcloud, a long-time favourite site of musicians and DJs where they can post their doodles, demos and remixes, has raised $50m in venture capital funding. And you know what that means: it's now obliged to talk new media marketing gibberish with a straight face.
The website announced revised payment plans for musicians yesterday under the umbrella "Soundcloud Pro". It has promised to "introduce a way for brands and music or audio partners to amplify themselves better on this platform". Expect more of this.
However, while Soundcloud has outlined new ways of taking money from creators, it hasn't introduced anything that involves giving them any money back. No matter how popular a stream may be, the sound creator won't see a penny.
As this blog post (via Music Ally) outlines, Soundcloud doesn't appear to have thought about revenues – there aren't even any ads – and risks being steamrollered by a Google-type rival. Or anyone, really, who can knock up a website with a play widget. Most artists aren't interested in meeting brands, but expanding their audience.
Soundcloud is just one of many sites that has stepped in to fill the void left by MySpace. MySpace is still with us in name, of course – but many years ago it had a quite different spirit - offering artists a rich set of tools with which to manage their gig itineries and communications. Fans could follow artists, club nights and venues via RSS. And because MySpace had scale, pretty much every venue, artist and club night in the world was on MySpace. What an amazing asset to have – and then throw away.
Nearly eight years ago, in July 2005, MySpace was acquired by News Corporation, which dithered, and was then blindsided by the rise of Facebook. The tools deteriorated, and both artists and punters drifted away.
Like Soundcloud, Brit music startup Songkick is another former-MySpace-feature. It looks slick enough, but then it has received some hefty cash injections from VCs. Just last year, it slurped up a whopping $10m in B-round funding from Sequoia Capital. The idea is that it would earn its revenues as a ticket affiliate, but the firm has been quiet about that. Perhaps that's why Songkick's CEO Crow is so keen to talk about Silicon Roundabout, instead, saying things like this.
Or perhaps talking horse manure is just a symptom of a large flux of VC money, like being dazed after a falling object has hit you on the head.
You tell me. ®