Smartphone users prefer LOVELY apps to fiddly mobe websites
They'd better load in 2 seconds or less, though
A whopping 85 per cent of smartphone users reckon local apps are better than websites, but they're an impatient bunch and expect a gentle touch to be rewarded within seconds or they'll go elsewhere.
The numbers come from Compuware APM, which hired Equation Research to quiz three-and-a-half thousand global smartphone users and establish what they really want from a mobile experience. The answer, in short, is pretty apps which boot up within two seconds and take advantage of platform features which will be missed by the best of HTML5 content.
Compuware hosts content of all types, so has no agenda to promote beyond serving more bytes, but given the utility of sites optimised for mobile, one has to wonder why handset applications remain the preferred option.
Trust seems important, given the focus on banking and shopping, and local apps seem to engender more trust than their browser-based contemporaries. Dodgy connections also play their part, although applications perceived as more responsive through clever use of HTML5 should mitigate that, so perhaps mobile sites aren't using the technology properly.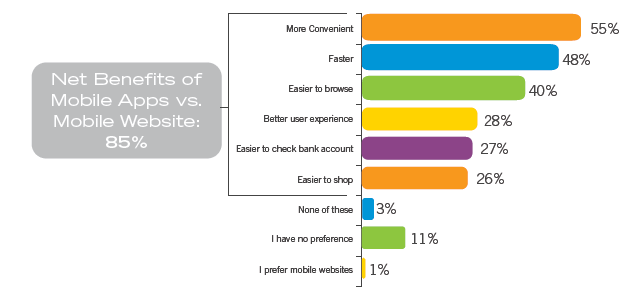 Arguably, the Android platform Facebook's application is inferior to its excellent web-based service, while Amazon's app offers no obvious advantage beyond consuming local memory and space for its icon, but perhaps those are bad examples given the cloudy nature of the services they provide.
Games run better locally, and probably will for a long time, but for other apps it is possible that perception could be more important than reality: apps are perceived as superior, and that becomes self-affirming as companies pour more cash into their applications than their websites.
For those providing the content, using an application is clearly better: customers on the web are only a single click from the competition, but once locked into an application, users are more likely to hang around - and if they prefer it that way then that's ideal.
The survey full details are available from Compuware, in exchange for a name and email address, but come with lots of pictures like the one shown above. ®
Sponsored: Practical tips for Office 365 tenant-to-tenant migration