Marvel: 'Come and get 'em! 700 first-issue comics! FREE!'
But hurry: Downloads for the low, low price of zero end on Tuesday
SXSW Comics-juggernaut Marvel's servers may be overheating at this very moment: it's currently giving away over 700 first issues of some of its most famous comics to anyone with an internet connection.
The company announced the deal at the South by Southwest Festival in Austin, Texas, on Sunday and downloaders have until Tuesday 11pm ET (Wednesday 3am UTC) to conclude their data slurp. First issues of Spider Man, The Fantastic Four, Captain America, and many more are up for grabs via Marvel's iOS and Android apps.
"Do we expect folks to try and download [every first issue]? We encourage it!" said David Gabriel, Marvel's VP of sales, digital & print in a statement
So what's the reason for this outpouring of largess from Marvel? Could it be the company is embarrassed at this week's deposition of a 90 year-old Stan Lee in the ongoing court case over the rights to the popular characters he created? Sadly for the tin-foil hat brigade, the truth is far more prosaic.
"This is the perfect way to show everyone how much we believe in our material by letting them try the first issues for free, because we're sure once they start, they won't stop," Gabriel said.
An addiction to comics – for a time at least – is something many of us go through, and comic book stores are increasingly full of more well-heeled adult consumers as well. With Marvel's digital promotion, there's the opportunity to hook lots of new fish and reawaken some long-buried appetites.
Marvel is no stranger to the digital comics market, first dipping its toes in the water in 2007. But the move helped the company rise from near-bankruptcy in 1996 to being bought out by Disney for $4bn three years ago – although the success of film franchise such as The X-Men, Spider Man, and The Avengers have helped a lot, too.
Sadly, those whose first exposure to the Marvel Universe is via film may find the experience of the first issues somewhat more low tech than what they are used to. Things have changed a lot over the years.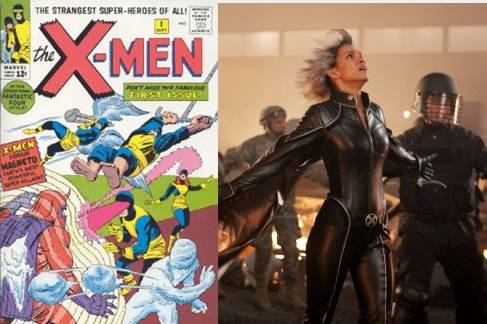 From low-rez to high-tech
While Gabriel said he hoped this promotion would encourage both digital and print customers, it's clear that the enlarging of Marvel's digital empire is more bad news for the struggling comic store industry. There will always be a few collectors that prefer the paper versions, but based on current trends the struggling stores haven't yet bottomed out. ®