There's cling-ons on the starboard bow! Trekkies' wallets under attack
Clip-on Star Trek comms badges lead crowd-funding projects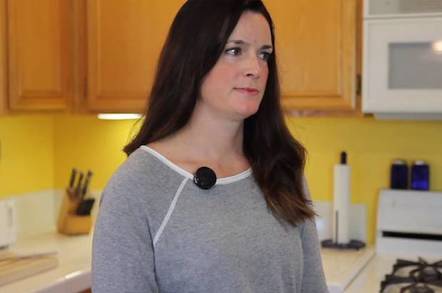 Pic Project fundraising websites - such as Kickstarter and Indiegogo - provide a wonderful array of dreams into which one can throw excess money. Between the desperate dance troupes and the technically optimistic, a few gems tread the fine line between genius and insanity.
Begging for your money this week we have the brains behind a Star Trek-style communicator badge: clip the gadget to your left breast for authentic tap-to-talk communication with the Enterprise a mobile phone.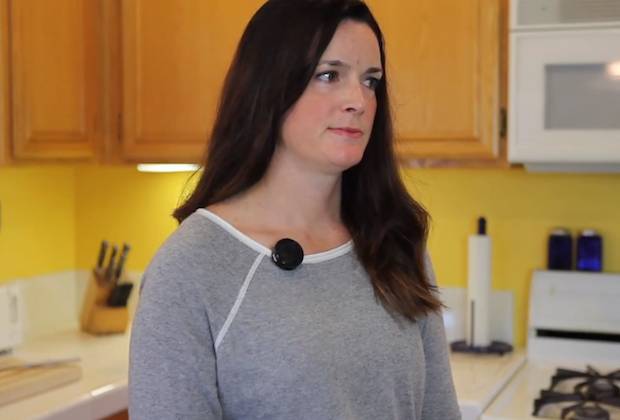 Just like on Star Trek... nearly
CommBadge has hit its crowd-funding target, although the company will still take your money if you insist on handing it over.
The badges are slightly larger than Starfleet insignia-shaped ones worn by the crew of the Enterprise*, but they offer the same functionality in that one can tap to open a voice channel to one's computer (aka one's mobile phone) and speak commands as well as making calls - it's like pinning a speakerphone to one's breast only less wearing on one's clothes and marginally less geeky. Sadly, they don't incorporate a universal translator.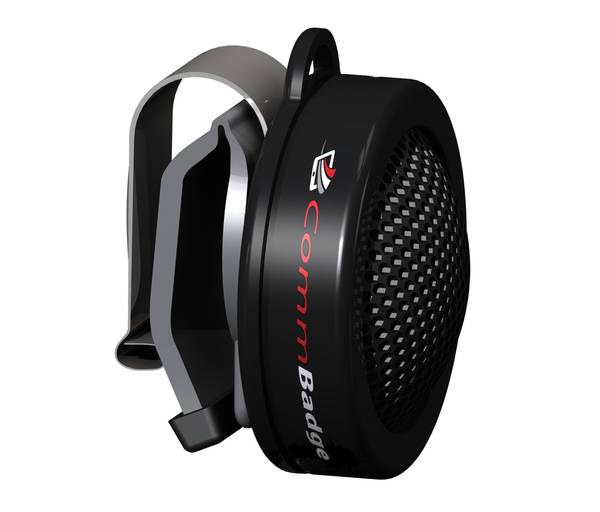 The gadget is touted on Indiegogo rather than Kickstarter; the latter was the poster child of crowd-funding but it has since been joined by a handful of similar schemes all providing a platform for dreamers, in exchange for a cut of the contributions raised. Most kickfunding pitches portray themselves selling pre-orders but in fact they're offering high-risk investments into someone else's dream.
A pitch to re-launch the board game Ogre raised just shy of a million dollars and production is (unsurprisingly) underway, but Google Glass competitor Eyez pocketed more than $300K without producing anything and the vast majority of projects never make their goals, while some don't deserve to.
Another pitch that'll take your money, but survive without it, is the one from graduate student Hugh O'Brien, who is trying to find out why 2.4GHz was selected as the internationally recognised channel for unlicensed radio comms. O'Brien is studying for a masters at the University of Limerick and was researching the history of Wi-Fi when he realised that while the protocols are well-documented, the birth of the unlicensed band is more opaque.
Most engineers, and your correspondent, put it down to microwave ovens, but O'Brien points out that opening the 2.4GHz band was suggested to the ITU by the FCC back in 1947 - and that the first patent on microwave ovens suggests using anything below 3GHz, so the question of "why 2.4GHz" remains open.
The documents are in the FCC archive, so O'Brien pitched for $500 to cover the cost of trawling by a local researcher. But having raised more than twice that through Indiegogo, he discovered the researcher wouldn't be able to find the documents, so now plans to spend the money flying to Washington to have a look for himself.
Does it matter? Probably not, but it is interesting and we'll certainly keep you abreast of what he finds, or fails to find, on his kickfunded odyssey.
Sadly it's too late to put your money into Taapi, the company which wants to make switching off someone else's lights into a competitive game and raised a grand-and-a-half before donations closed.
Taapi is a model so riddled with flaws it's hard to quantify: just replace all the switches and light bulbs in your house, then let people around the world race to see who can plunge you into darkness first. What could possibly go wrong?
Players Around the World Race To Turn Off Unused Lights from Taapi on Vimeo.
Thanks to Indiegogo's "Flexible Funding", the proposers of Taapi get to keep the cash despite failing to hit the goal, presumably to fund their next pitch to the more gullible segment of the Kickfunding audience who can't spot the difference between ordering a product early and pouring cash into someone else's pocket in the hope of an eventual reward. ®
* From The Next Generation onwards - before that, Starfleet crew used portable flip-phone-style transceivers.