LOHAN seeks rocketeer for explosive relationship
GSOH, love of travel, Level 2 certificate...
Despite an apparent lull of late on the Low Orbit Helium Assisted Navigator (LOHAN) front, we are moving apace towards finally getting our Vulture 2 aircraft aloft.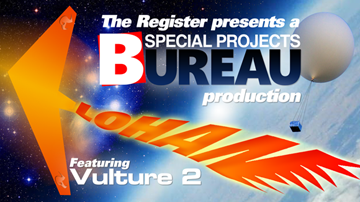 There have been some dramatic developments recently regarding a launch site for our audacious ballocket mission, which for reasons of security we're not presently able to share with our beloved readers.
However, you'll be able to deduce that we do have clearance for lift-off somewhere when we announce that we're looking for a Europe-based rocketeer with a Level 2 certificate (Tripoli, UKRA, etc), able and authorised to handle J-class motors.
Apart from that obligatory bit of paper, there are a few other requisites. You'll need to have a flexible schedule (and/or understanding boss, wife/husband, etc) to allow you to spend 10 days with the LOHAN team for the historic event, dates to be announced.
Our budget doesn't extend to stumping fees for your time, but we can offer an all-expenses-paid jaunt in which you'll be working with myself, and Special Project Electronic Altitude Release System (SPEARS) team Dave Akerman, Neil Barnes and Anthony Stirk.
If you're interested in climbing aboard LOHAN, for what should be quite an adventure, give me a shout right here. ®
---
Further LOHAN resources:
---