Canuck rumps resist Street View arsebusters
Blue moon shines bright in Nova Scotia
NSFW Google's Street View has been around long enough to become part of the internet scenery, although it continues to offer interesting scenery for those with a sharp eye.
The Great Satan of Mountain View addressed early privacy concerns with its face-blurring algorithm, while the company's dedicated censorship SWAT teams were on instant standby to eradicate outrages against public decency, such as Spanish women caught taking the piss, Bambi-slaughter shockers and innocent kiddies' naked arses.
Indeed, Google has a dim view of rear-views, especially when perpetrated by cheeky citizens for the benefit of passing spymobiles. When Street View went live in Ireland back in October 2010, it took just hours for the local press to locate a couple of bare-arsed wags, and a similarly short span for the two mooners to get their rumps righteously pixellated.
We're glad to report, though, that there are still uncensored examples of the public mounting gluteus maximal protests against Street View's bid for world surveillance domination, as this Nova Scotia blue moon shows: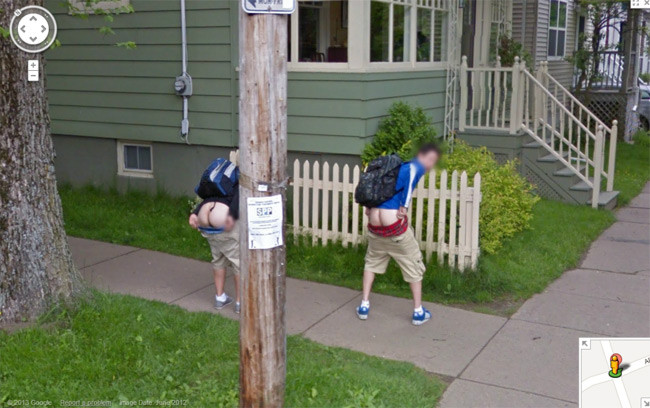 A hearty slap on the, er, back for these two lads for escaping the attention of Google's arsebusters until now, although we fear their backsides' days are numbered... ®